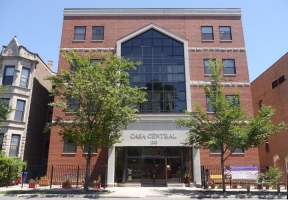 Casa Central appointed 12 new members to its Emerging Leaders Auxiliary Board (ELAB) on January 1, 2021. ELAB is comprised of 26 distinguished young professionals from various industries across the Chicago area. Members of ELAB serve as ambassadors for Casa Central and help support the programs, activities, and communities it serves through fundraising events, volunteer service, and professional engagement.  Over the next year, ELAB members will work closely with Casa Central's Board of Directors and executive staff to design fundraising activities and recruitment strategies to engage young professionals with Casa Central's mission. A few of the new ELAB members include:  
• Sally Delgado – Director of Development & Alumni Relations, Morton College 
Sally joined Morton College in 2017 as the Recruitment Specialist and is now serving as the Director of Development & Alumni Relations where she manages and implement strategies for annual giving programs to secure philanthropic support from key stakeholders and oversees alumni engagement activities. Sally earned her Bachelor's Degree in Interdisciplinary Studies and her Master's Degree in Education from DePaul University. 
• William Jaramillo – Community Manager, Vice President, JPMorgan Chase 
William is a Community Manager at JP Morgan Chase & Co. William's experience includes business banking, wealth management and branch management. William is currently pursuing a Bachelor's Degree in Business Management at DePaul University. ​ 
To check the full list of ELAB members, visit www.CasaCentral.org.