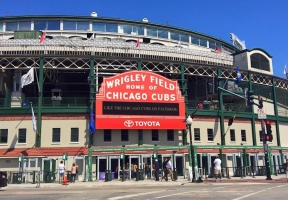 The Illinois Department of Natural Resources (IDNR) announced 12 Illinois sites were added to the National Register of Historic Places during 2020, including one National Historic Landmark.  The places recognized are located across Illinois and include a 150-year old farmstead, the home of the Chicago Cubs, and four historic districts that, when combined, include more than 700 significant properties. National Register places are added to the register by the National Park Service based on recommendations from the State Historic Preservation Office. The 2020 Illinois additions to the National Register include a few of the following:
Gage Park Bungalow Historic District, Cook County, Chicago
Listed March 13, 2020
During the first three decades of the 20th century, Chicago's population doubled as an additional 1.5 million residents settled into the city. During this same period, tens of thousands of one-and-one-half story brick bungalows were built in the city's outlying neighborhoods. Built together, many times in entire blocks to form a veritable belt around the center city, the unprecedented form of the Chicago bungalow created an entirely novel form of Chicago urbanism.  In 2004, a thematic study establishing the significance of Chicago bungalows was approved by the National Park Service.  Since then, 13 bungalow historic districts in Chicago have been listed in the National Register of Historic Places.
Wrigley Field, Cook County, Chicago
Listed September 23, 2020
Wrigley Field was listed as a National Historic Landmark as one of Major League Baseball's most venerable structures and the country's oldest extant National League ballpark.  Built in 1914 as Weeghman Park, this ivy-studded baseball park has been home of the Chicago Cubs since 1916. Located on the city's North Side, the park was renamed Wrigley Field in 1926 for William Wrigley Jr., who purchased the Cubs in 1921.  The baseball park is also significant in the history of professional football as the longtime playing field for the Chicago Bears.