By: Ashmar Mandou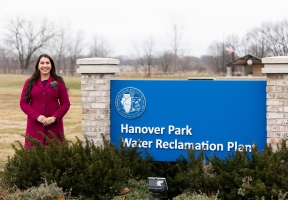 This year brought on many exciting changes, including former state senator Iris Martinez becoming the first Latina to take the seat as Clerk of the Circuit Court for Cook County as well as underdog Eira L. Corral Sepúlveda making waves becoming the first Latina elected as Commissioner on the MWRD Board of Commissioners. Both women have a clear vision for this year in their respective roles and Lawndale Bilingual Newspaper had the pleasure to share their plans as part of our series, New Role, New Goal.
Clerk of the Circuit Court for Cook County Iris Martinez
Pivotal Lesson
From a young age my mother taught me the importance of honesty. I learned through her stories and through her examples that whatever we decide to do in life, we have to do with honesty and transparency. We cannot gain someone's trust without it and I believe that's how I lived my life in public service for the past 18 years being a State Senator and that is how I will live my life as the Cook County Circuit Court Clerk.
New Day, New Mentality
I thank my predecessor for everything she was able to accomplish, but this is a new day, new mentality and we are hitting the ground running in this new administration. We are working with over a $100million budget and we currently have 1,400 employees, hiring at least 400 more city clerks is part of the plan. We want whatever service residents are in need of to be accessible and helpful. We are also in motion to conduct a forensic audit to learn where we need to improve moving forward. My goal is to take care of the negative aspects of the office and highlight the positive. Working in a pandemic has proven to be quite challenging, in terms of reaching out to residents or creating programs, but rest assured this office will be heavily involved in the community.
Civic Leadership
I urge young Latinos who are interested in entering public service to start at a local level. Get involved with your local alderman, attend town hall meetings, forums, volunteer at various organizations and do not be afraid to speak your mind. Be honest in your choices and do what feels right in your gut.
Commissioner of the Metropolitan Water Reclamation District Eira Corral Sepúlveda
Pivotal Lesson
There was a moment during the campaign where I felt overwhelmed, I was exhausted, nervous and my father could see that on the drive to dropping me off before being interviewed for newspaper endorsements. He asked me what was wrong and I told him. He then cradled my face, looked into my eyes and said, "Mija, échale ganas" I say that to say, we all have times where we feel overwhelmed, underqualified, or just fearful of taking the next step. Fear is inevitable, but you need to push through to make room for bravery. Allow yourself to be brave, échale ganas.
New Role, New Goal
Currently, I'm working on putting together a team that will propel us into the next years. We aim to work with researchers to see how we can improve MWRD storm-ways and really educate the public on our efforts to combat diseases and the role MWRD plays when it comes to public health.
Civic Leadership
What I would like to tell the younger generation of Latinos with a desire to make a difference is really just to show up. Whether you have aspirations to be in politics, or run on a school board, no matter what you do in life, you should always be a leader in it. Do little tasks that will make you feel brave and make you feel confident.