By: Ashmar Mandou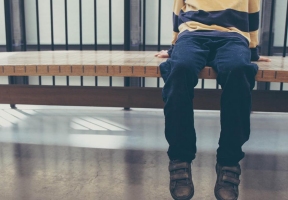 Lieutenant Governor Juliana Stratton and State Representative Delia Ramirez publicly released the concluding report and recommendations from the Task Force on Children of Incarcerated Parents on Wednesday morning. "The consequences of incarceration reverberate for generations to come, and the trauma of parental incarceration for children is often ignored," said Lt. Governor Juliana Stratton. "The recommendations of this Task Force are an important step towards creating a more equitable future for all Illinois children, and I am grateful to the Task Force for its work on these important issues." The Task Force was created through legislative statute in 2019 for the purpose of developing recommendations to address the effects of incarceration on families throughout Illinois.
Led by State Rep. Delia Ramirez and Lt. Gov. Juliana Stratton's Justice Equity and Opportunity Initiative, the task force included 25 members of state and local law enforcement, legislators, the adult and juvenile corrections systems, members of the academic community, individuals who had been incarcerated, and children of incarcerated parents. Cabrini Green Legal Aid provided subject matter expertise and support to the Task Force. Recommendations include: ensuring family visitation options at all detention facilities statewide, involving youth in the development of training for law enforcement, and implementing policies to reduce trauma at all points of contact. "It has been an honor and a humbling experience to serve on the Task Force for Children of Incarcerated Parents" State Rep. Delia Ramirez stated, "Our goal has been, and continues to be, centering the voices of individuals impacted by parental incarceration in the development of policy solutions that address these issues. Implementing the recommendations in this report will help us to better meet the needs of children and families impacted by parental incarceration." Among the recommendations made by Rep. Ramirez are:
• One thing I think is integral to all the elements of the recommendations is the technological infrastructure to make this all happen. I also want to raise the issue of prison nurseries, which didn't come up a lot in our conversations. I am thinking about the importance of preserving a family in this situation. We really didn't talk about pregnant parents and that they have skinon-skin contact before a child is born. I think this is really important to highlight.
• One question I had is when we're looking at collaboration between state agencies. I noticed that schools aren't specifically mentioned. Not necessarily data sharing, but when we're talking about training and collaboration between state agencies, maybe it would include a set of tools for educators to work with children who have parents incarcerated?
• I think that prison nurseries are really important. There's research out there that suggests that both parents and children benefit from that experience. I know there are some programs with a prison nursery, but looking into how to expand that to be available to more pregnant women would be really important and something we should do.