Por: Ashmar Mandou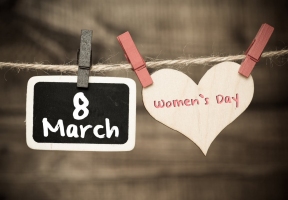 El Día Internacional de la Mujer es un día para difundir concientización entre los activistas comunitarios, organizaciones y líderes luchando por los derechos y la equidad de la mujer y un momento para celebrar los logros de la mujer alrededor del mundo. El tema del Día Internacional de la Mujer de este año es #ChooseToChallenge, un reto para activar el cambio y hacer una diferencia. Hay varias organizaciones en la ciudad para que usted participe y conmemore ese día.
Chicago Women in Trades
Chicago Women in Trades es impulsada por su misión de garantizar que todas las mujeres que quieren trabajar con sus manos y tener un buen salario, tengan acceso equitativo a información, entrenamiento y oportunidades de empleo en la industria. Si desea más información sobre Chicago Women in Trades, visite www.cwit.org o llame a 312-942-1444.
The Network: Advocating Against Domestic Violence
La misión de The Network es educar, organizar y abogar por la organización colaborativa de membresía para terminar con la violencia doméstica. The Network es una organización colaborativa de membresía dedicada a mejorar la vida de los impactados por la violencia doméstica por medio de la educación, la política pública, la abogacía y la conexión de miembros comunitarios a proveedores de servicio directo. Para más información, visite www.the-network.org o llame al 312-527-0730.
Chicago Women's History Center
Chicago Women's History Center es una organización de voluntarios no lucrativa fundada en 1971 para apoyar la historia de la mujer en el área de Chicago. Chicago Women's History Center es una red dinámica de historiadores, activistas, maestros, historiadores públicos, profesionales de los medios, escritores, artistas, activistas y becarios de muchas disciplinas. Si usted está interesado en servir como voluntario o desea más información, visite www.cawhc.org.
POWER: Opening Doors for Women®
POWER promueve y desarrolla mujeres líderes ofreciendo oportunidades únicas para líderes de alto nivel y talento de alto potencial para interactuar e intercambiar ideas con líderes fueres, expertos en la industria y sus compañeros. Desde su inicio en el 2004, POWER ha obtenido el apoyo de corporaciones multinacionales de Fortune 500, firmas legales internacionales y organizaciones cívicas. Para más información, visite www.womensnetworkingcommunity.org.
In Her Shoes Foundation
In Her Shoes Foundation (IHSF) es una organización 501(c)3 dedicada a hacer un impacto positivo en la sociedad, empoderando a las mujeres y a las jovencitas. La visión de In Her Shoes Foundation es empoderar e inspirar a toda mujer y joven para que sea lo mejor de ella misma. Su misión es abrazar el potencial de todas las mujeres y jovencitas proporcionándoles: Influencias positivas, Oportunidades de Aprendizaje, Afiliaciones Comunitarias y Desarrollo de Liderazgo. Para más información visite www.inhershoesfoundation.org.