By: Ashmar Mandou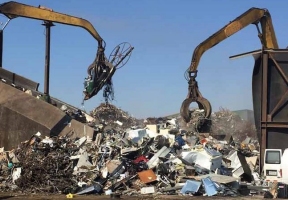 A joint letter with over 20 Illinois state legislators from the Chicagoland area urged Chicago Mayor Lori Lightfoot on Wednesday to deny RMG subsidiary, General Iron's, requested operation permit. The letter is the latest in a series of public officials expressing opposition to the relocation of General Iron from the city's Northside Lincoln Park neighborhood to the Southeast side.
The letter reads, "General Iron, a subsidiary of RMG, has proven with its decades long history in Lincoln Park that it is a public health threat. From toxic fluff pollution to the overly common occurrence of fires & explosions, this facility has repeatedly violated state environmental regulations, and has been forced to shut down by the City of Chicago itself numerous times."
"I have always stood strong for and supported environmental justice efforts; therefore, my support is with the passionate advocates and families of my community who have real concerns. The citizens of the Southeast side of Chicago deserve the best and I believe that they want imaginative development that creates economic activity and jobs while healing the environmental justice scars of the past," said Assistant Majority Leader Marcus C. Evans, Jr. who represents the Southeast side.
Wednesday's letter comes six days after activists in Chicago's Southeast Side concluded a month-long hunger strike to bring attention to the community's opposition to the proposed relocation of General Iron.  Several weeks into the hunger strike, Mayor Lightfoot responded to the demands of a growing number of hunger striking community members, acknowledging the legacy of environmental racism on the city's Southeast side, but stopped short of meeting their demands and committing to deny the permit.
The City and Illinois Environmental Protection Agency (IEPA) are both under federal investigation for the granting of air and construction permits. Residents critique the city's environmental regulations for failing to address critical siting issues in the first instance.
"Residents are expressing concern with a lax set of proposed regulations that themselves do not require fully enclosing toxic material and that water down air monitoring requirements, in contrast to what the city requires for other similar facilities. They also critique the environmental regulations for failing to address critical siting issues in the first instance. Southeast Siders say these unresolved issues and weak regulations are reasons to hold off issuing any further approvals or allowing any construction for the proposed new Southeast Side facility.  CDPH has authority under City ordinances to deny the permit and must do so," stated a member of the Natural Resources Defense Council.