Compiled by Ashmar Mandou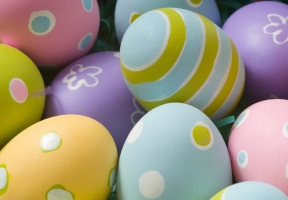 Easter Photos at North Riverside Park Mall
Head over to North Riverside Park Mall for Easter photos and visit the Bunny! Digital Hot Shots professional portrait studio photo packages start at $19.95. Choose from 3 Backgrounds! For questions or appointments please call 708-442-0166.
Where: North Riverside Park Mall, 7501 W. Cermak Road, Berwyn, IL
Date: Through Saturday, April 3rd
Time: 2p.m.-7p.m.
Easter Egg Scavenger Hunt
Visit the Easter Bunny for an Easter Egg Scavenger Hunt through Hawthorn Mall. MyPerks members can pick up an Egg Hunt Card in the MyPerks Lounge just before the event begins, then search for Easter eggs on the doors of participating retailers. Registration required. Visit www.shophawthornmail.com.
Where: Hawthorn Mall, 122 Hawthorn Center, Vernon Hills, IL
Date: Saturday, April 3rd
Time: 11a.m. to noon
Eggstravaganza
Children can join the Bunny in a hunt for eggs in Prairie View Park. They have split the hunt into time slots to encourage social distancing. The hunt goes by fast, so make sure you come a little early to sign in for your session. Children must be accompanied by an adult. Please provide your own basket. Eggs contain small toys and candy, parental discretion advised. For more information, visit www.mortongroveparks.com
Where: Morton Grove Park District, 6834 Dempster St., Morton Grove, IL
Date: Friday, April 2nd
Time: 10a.m., to 12:30p.m.
Bridgeport Easter Egg Hunt
The children's ministry at Park Bridgeport is hosting an Easter egg hunt for the families in our community. Please invite others to join. Bring a mask and meet us in the green space of Schulze & Burch Biscuit Co. All are encouraged to stay for their church service afterwards at 10a.m. in the same location.
Where: Schulze and Burch Biscuit Co., Green Space Park Community Church Bridgeport., 1133 W. 35th St., Chicago, IL
Date: Sunday, April 4th
Time: 9:30a.m.