By: Ashmar Mandou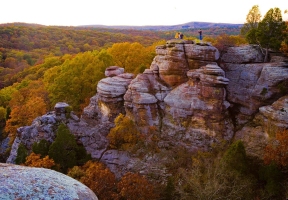 Time to hit the road this summer. On Wednesday, Governor JB Pritzker joined the Illinois Office of Tourism to kick off "Time for Me to Drive," a new campaign to promote the return of travel across the state.
"The Abraham Lincoln Presidential Library and Museum is one of our state's greatest attractions having welcomed millions of people from around the world. That's why I chose it as the place to announce Illinois' new tourism campaign – one designed especially to meet this moment in our history," said Governor JB Pritzker. "After an incredibly difficult year in which the pandemic kept us all close to home and staying apart, lifesaving vaccines are bringing us back to life and heading toward a summer of fun and venturing out. Today I'm proud to launch the Time for Me to Drive Campaign – inviting people to see all of Illinois, showing off adventures of all kinds: Historic sites and winery tours, state parks and rock climbing, hiking, and zip-lining, hundreds of craft breweries and thousands of excellent restaurants across the state."
"Time for Me to Drive" highlights the state's seven national scenic byways and highways as more travelers seek to pack their cars and hit the road, a trend seen increasingly across the country. Road trip itineraries also promote the discovery of destinations in and around Chicago, including award-winning restaurants, small businesses offering Illinois-made products and unforgettable locations like Chicago's Navy Pier, the Riverwalk and of course the city's diverse neighborhoods.
"Without question, tourism is a key economic driver for Illinois and is essential to our economic recovery," said Sylvia Garcia, Acting Director of the Department of Commerce and Economic Opportunity (DCEO). "That's why we are excited to roll out this new campaign just in time for summer, marking a critical step forward in bringing visitors back into our communities, supporting our hospitality businesses and helping build consumer confidence. We thank our tourism partners for their continued support as we work to revive the industry and reclaim Illinois' place as a major international destination for business and leisure travel." 
New research indicates that over 70 percent of Americans are ready to return to travel, up nearly 20 percentage points since the start of the year, and that many favor road trips. Since the pandemic began, it's estimated that more than two-thirds of Americans have taken a road trip. Additionally, industry experts have consistently recommended road trips to help consumers feel comfortable in light of the ever-changing nature of the pandemic.