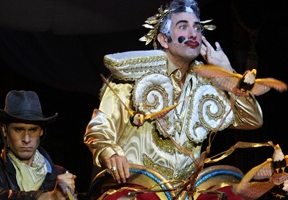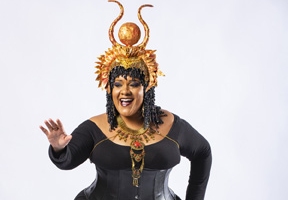 By: Ashmar Mandou
Live comedy, music, and unique thrills once again returns to Chicago with Teatro Zinzanni beginning July 8 at the Chicago Theatre District. An incomparable experience, Teatro Zinzanni is a whirlwind of international cirque, comedy, cabaret served with a multi-course gourmet feast. As one of the most anticipated shows makes its return, we interviewed one of the newest cast members Storm Marrero, a Brooklyn native, in her role as Cleopatra.
Lawndale Bilingual News: I had the pleasure of experiencing Teatro ZinZanni, which instantly became one of my favorite shows; it was thrilling, hilarious, and unforgettable.  As a new cast member playing the role of Cleopatra what are you looking forward to the most when Teatro ZinZanni returns to Chicago?
Storm Marrero: I look forward to sharing the stage with a lot of amazing actors, dancers and specialty acts that I've admired for years. But more than anything, I look forward to performing for an audience again. I miss making people happy. 
You are a Brooklyn native that has cultivated quite the career working alongside veteran opera singers at the University of Puerto Rico, releasing a record, and becoming the first Afro-Latin ringmaster for the Big Apple Circus 2019-2020 season.  What has each experience meant to you personally and professionally?
Coming from such an interesting background, being a part of such astounding career opportunities has given me an interesting perspective regarding my creativity. Each experience has allowed me to be even more appreciative of my upbringing and the blessings I've been given. The culmination of all of that was being the first Afro-Latina (and only the 3rd woman) to be at the helm as the ringmaster for the Big Apple Circus in its 42 years running, before the lockdown.
When was the tipping point for you to decide to pursue a career in music?
I've been a professional singer since the age of 18 and though I've always worked in the arts, I always had a day job. I decided on pursuing my career full time in 2016, at the age of 40.  I saw myself investing so much of my time in work I hated, I made it my business to look at my career as my full-time work. So, I quit my day job and started living life as a working artist/working musician.  It's trying because, as artists, there's no such thing as a sick-day or a day off.  If you do not work, you do not get paid.  So as an artist, I have to take extremely good care of myself and my instrument (my voice).  So, no hard partying, no hanging out late, no loud places.  My life and work is my art.  
What element of your musical style are you looking forward to sharing in Teatro ZinZanni?
To be perfectly honest, just being able to be around artists, being able to work in what I love!  That's what I'm looking forward to the most!!  I'm definitely looking forward to singing with my friend Michael Cunio, who is a powerhouse singer and part of my artistic family.
For kids who dream of having a career in music/theatre what advice can you give to them on how to prepare?
My advice; study absolutely everything!  All the ins and outs of theater, all the musical styles under the sun.  Even pick up on things that you never thought you'd do.  I know so many singers and dancers that are fabulous costume designers, amazing photographers, know about lighting and design.  Make yourself indispensable, all while still honing your craft.  And above all, believe in yourself.  Believe it even if others don't see it.  If it's as clear as day in your minds' eye, it's yours.  No one can take it from you.
Individual tickets, which include a four-course meal, are on sale now and range in price from $119 – $189. Front Row VIP tickets are available at a premium price. Limited à la carte "show-only" tickets will also be available for $69. Individual tickets will be available by visiting zinzanni.com/Chicago or by calling (312) 488-0900. Tickets are available now for groups of 10 or more by calling Broadway In Chicago Group Sales at (312) 977-1710 or emailing GroupSales@BroadwayInChicago.com. Teatro ZinZanni is located at Spiegeltent ZaZou, located on the 14th floor in the Cambria Hotel Chicago Loop, 32 W. Randolph.