By: Ashmar Mandou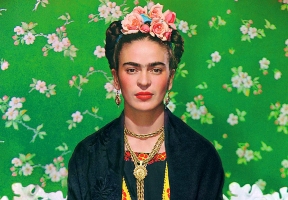 It's finally here! The much anticipated Frida Kahlo Exhibit makes its debut this weekend at the College of DuPage. The Cleve Carney Museum of Art (CCMA) and the McAninch Arts Center (MAC) at the College of DuPage (COD) will host one of the largest private collections of original artwork by Frida Kahlo in a multifaceted exhibition entitled Frida Kahlo: Timeless. The exhibition, opening June 5 and running through Sept. 6, 2021, will be the most comprehensive presentation of Kahlo's work displayed in the Chicago area in over 40 years.
"Frida was very much a person of the people and this intimate, educational showcase brings works never before seen in the Chicago area to DuPage County," said Frida Kahlo: Timeless Executive Director and McAninch Arts Center Director Diana Martinez. "This exhibition is one of kind and is not travelling elsewhere. In addition to the 26 original artworks that will be on view, we have developed a historical timeline, display of over 100 photographic images from the artist's life, a poetry garden and children's area which enrich the viewing experience. Our setting within a performing arts center and academic institution has provided us with resources not typically available to most museums, enabling us to present work by an iconic historical figure in a new light."
The exhibit includes a 26-piece collection, on loan from the Museo Dolores Olmedo, featuring a plethora of oil paintings and works on paper spanning the life of Frida Kahlo. Kahlo's pieces highlights themes of identity, politics, sexuality and death. Works from Kahlo's early life follow a period when the artist was left bedridden for months after surviving a life-altering bus accident at the age of 18 and span her lifetime, concluding with a work completed the year of her death.
"The work in this collection maps the arc of Frida Kahlo's exceptional life and career," stated Frida Kahlo: Timeless and Cleve Carney Museum of Art Curator Justin Witte. "Frida Kahlo and her work were so interconnected that it is impossible to separate one from the other. That is also why her presence is still strongly felt in every piece in this exhibition. For exhibition visitors to have the opportunity to experience Kahlo's life and work in the intimate and unique setting of the Cleve Carney Museum of Art will be a once in a lifetime experience." Frida Kahlo: Timeless will be on view June 5 – Sept. 6, 2021 during the hours of 10 a.m.-6 p.m. Monday, Tuesday, Wednesday, Friday, Saturday and Sunday; and 10 a.m.-10 p.m. Thursday. For more information and to purchase tickets, visit Frida2021.org or call 630.942.4000.