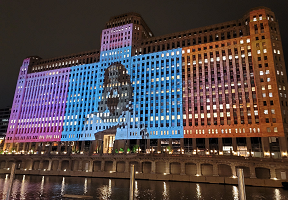 En colaboración con el Departamento de Asuntos Culturales y Eventos Especiales de Chicago, Art on the MART lanzará una serie de nuevas proyecciones saludando a los músicos con sede en Chicago, Frida Kahlo y los Obama, en honor a la celebración del Año de la Música de Chicago. A partir de esta semana, todas las proyecciones serán presentadas en la noche en la fachada de theMART a las 9:00 y a las 9:30 p.m. Todas las proyecciones serán pasadas hasta el 16 des eptiembre.
Año de la Música en Chicago
La serie Año de la Música en Chicago incluirá tres proyecciones:
– Footnotes, una proyección animada enfocada en juego de piernas de Chicago, producida por los artistas y cineastas Wills Glasspiegel y Brandon K. Calhoun, presentando música original de DJSpinn, los Chicago Bucket Boys, Angel Bat Dawid, Elisha Chandler y Amal Hubert, de la banda Hypnotic Brass Band.-
– Woven, creado por la artista visual Selina Trepp y el músico Dan Bitney, Colaborando como Spectralina, entrelazando música inspirada en la rica historia musical de Chicago con animaciones dibujadas a mano de imágenes de patrones tejidos que se encuentran en vecindarios culturalmente diversos.
Frida Kahlo
Con motivo de la exposición Frida Kahlo: Timeless en el Cleve Carney Museum of Art y el centro McAninch Arts Center en College of DuPage, se presentará una proyección con varias de las obras más reconocidas de Kahlo, incluyendo Auto Retrato con el Pequeño Mono (1945) y Auto Retrato en Vestido de Terciopelo (1926). Acompañado por la partitura orquestal del compositor mexicano Arturo Márquez, grabado por New Philharmonic, la proyección conmemora el legado artístico de Kahlo.
Los Retratos Obama
En colaboración con la presentación The Obama Portraits del Instituto de Arte de Chicago, Art on theMART presenta una proyección dinámicamente animada de los retratos del presidente Barack Obama y la ex Primera Dama Michelle Obama por Kehinde Wiley y Amy Sherald, respectivamente. Para más información, visite artonthemart.com.