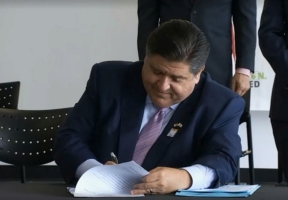 Governor JB Pritzker signed a package of legislation advancing the rights of the LGBTQ+ community in Illinois. The four pieces of legislation expand infertility treatment coverage for same-sex couples and women over 35, allow those getting married to choose gender-neutral certificates and those already married to have their certificates updated, and address HIV stigma by repealing the archaic HIV criminalization law. This package of legislation builds on the administration's work to advance LGBTQ+ rights in all aspects of the lives of Illinois' residents. This includes providing financial aid to transgender students who would otherwise be denied, bringing inclusive curriculum into our schools to ensure LGBTQ+ history is represented in the classroom, expanding Medicaid to cover gender-affirming surgery, and putting in place the Getting to Zero plan to end HIV in Illinois in a decade. The package of bills signed into law on Tuesday includes:
HB 3709 expands insurance coverage for infertility treatments coverage to include same-sex couples, women over 35, single persons, and those who cannot get pregnant naturally due to a medical reason. Therefore, granting discrimination protections for individuals accessing fertility treatments. HB 3709 takes effect January 1, 2022.
SB 139 updates marriage certificates by allowing married couples to request a new marriage certificate from the county clerk free of any gender identifying language. This includes changing language to gender-neutral terms such as "spouse." SB 139 takes effect January 1, 2022.
HB 2590 creates a uniform standard that county clerks must adhere to for name changes on marriage certificates. This is the same standard when making legal name changes on government documents such as birth certificates and driver's licenses. County clerks can issue new marriage certificates if the marriage occurred in Illinois and if legal documentation of the name change is provided. HB 2590 is effective immediately.
HB 1063 modernizes the approach to public health regarding HIV in Illinois, by decriminalizing the transmission of HIV. Currently, individuals living with HIV face the threat of arrest, prosecution, and incarceration due to their HIV status, regardless of whether they transmit HIV to another individual.  HB 1063 is effective immediately.