By: Ashmar Mandou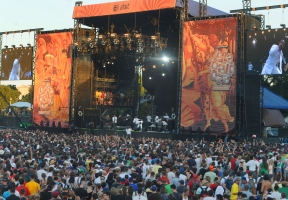 Lollapalooza is back! From July 29th through August 1st, Grant Park will transform into a music lover's paradise as acts, such as Post Malone, Megan Thee Stallion, and Miley Cyrus take the stage to serenade the crowd. However, health experts are warning concert-goers that extra COVID-related protocols will be in place to keep attendees safe. According to the Chicago Public Health Department, to attend the festival, you need to either show proof of COVID-19 vaccination or a negative COVID test taken within 72 hours of the day you're heading inside. Unvaccinated visitors traveling to Chicago from the now 14 states and one territory on the list are asked to get a negative COVID test result within 72 hours or quarantine for 10 days when they arrive.
In addition, the Better Business Bureau (BBB) warns attendees that as fake tickets, fake ticket sellers are main sources of scams, fake vaccination cards are also a cause for concern this year. "Just like finding tickets, there are countless ways for consumers to find vaccination cards online, with online marketplaces, ticket sellers, resellers, and the like, and unfortunately, some of them are rip-offs," says Steve Bernas, president and CEO of BBB. "This scam is especially dangerous because fake tests and vaccine cards not only put people at a health risk, but buying and selling illegal cards is a crime," says Bernas. He added that the FBI is investigating buyers and sellers. Violators can be arrested." BBB is warning consumers to be smart when searching for and purchasing tickets to ensure they are buying from a trustworthy source.   Here are some tips, whether you are looking for tickets for a concert or any other event: 
• Know that buying tickets from unknown sources is like buying tickets in a dark alley. Fake tickets, especially for sought-after events, have become common. 
• Purchase from the venue. Whenever possible, use the official ticket sales agent for the venue or visit the box office directly. 
• Know the refund policy. You should only purchase tickets from a ticket reseller that provides clear details about the terms of the transaction. Sellers should disclose to the purchaser, prior to purchase, the exact location of the seats represented by the tickets. Know what happens when concerts cancel or change dates. 
• Use payment methods that come with protection. Always use a credit card so you have some recourse if the tickets are not as promised. Debit cards, wire transfer or cash transactions are risky; if the tickets are fraudulent, you won't be able to get your money back.