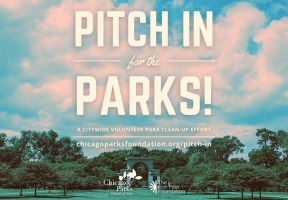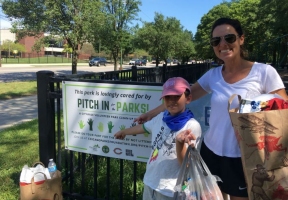 By: Ashmar Mandou
Earlier this month the nonprofit Chicago Parks Foundation (CPF) announced the second annual of "Pitch In for the Parks!" an effort designed to help maintain the city's 600 public parks clean. Last year, the initiative drew in 2,000 volunteers for 350 park clean-ups and this year, CPF Executive Director Willa Iglitzen Lang hopes to see that number grow. We spoke to Lang about the serenity Chicago Parks bring to residents as well as the Foundation's future goals.
Love for the Parks
During the pandemic when we were all confined to our homes, Chicago Parks became a vital role in mental health. You could take walks down the lakefront, when it was open; you could enjoy the sun. We really saw people connecting in a safe and responsible way. It was wonderful to see. It is always lovely to see people from around the City enjoying their neighborhood park.
Pitch In
Prior to the pandemic, our Foundation held multiple events around the Chicago Parks, such as meditation, cooking classes, woodwork to name a few. It all stopped once COVID hit Chicago and we quickly had to think of a way to get residents to support their local parks. We know people always want to give back and not in the financial sense. People want to give their time and support. Because we couldn't maintain our staff during the pandemic, we came up with the idea of Pitch In for the Parks to get people excited about meeting their neighbors, rolling up their sleeves, and helping to beautify their parks. We supply all the necessary items to help clean the parks. All volunteers have to do is to step up and pitch in. This year, we have 100 unique groups already signed up across the City ready to do their part.
Volunteers
People eager to make a difference their community are encouraged to check out our website at www.chicagoparksfoundation.org to sign up to a local group. This is a wonderful way to show up for your community and help to maintain a sense of peace and health for others in the community.
Future Goals
There are so many programs that the Foundation offers at the Chicago Parks; there is something for everyone eager to learn a new skill. I will say we are in the process of putting together a program that will give an opportunity for residents to walk with a medical student to discuss the importance of maintaining your health and have their medical questions answered while walking together in a group. It's called, "Walk with a Future Doc," and we are currently working with the Feinberg School of Medicine to get medical students involved in this program and soon we hope to expand to other medical schools. That is just one of the programs we hope to launch soon.