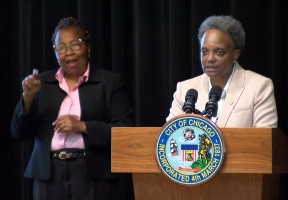 By: Ashmar Mandou
Mayor Lori Lightfoot announced Wednesday that all Chicago employees will need to be fully vaccinated against COVID-19 by October 15th, joining other major cities across the country. "As cases of COVID-19 continue to rise, we must take every step necessary and at our disposal to keep everyone in our city safe and healthy," said Mayor Lightfoot. "Getting vaccinated has been proven to be the best way to achieve that and make it possible to recover from this devastating pandemic. And so, we have decided to join other municipalities and government agencies across the nation, including the U.S. military, who are making this decision to protect the people who are keeping our cities and country moving."
More than 30,000 people are employed by the city. Cook County Board President Toni Preckwinkle issued an executive order Friday mandating vaccines for county employees. Chicago Public Schools will also require teachers and other employees to be vaccinated unless they qualify for a religious or medical exemption. Both the county and CPS are giving employees until Oct. 15 to be vaccinated.
In a move that is already receiving significant pushback from four police unions representing Chicago police officers, met Lightfoot's team virtually to discuss the vaccine mandate. "If it's a mandatory condition, seven points that must be negotiated and that's pretty well settled in labor laws," said Lt. Michael Stiscak, president, Chicago Police Lieutenants Union. "So if they're going to make this a fireable offense or a mandate in order to maintain employment, that's going to have to be negotiated by them. It just cannot be enacted by them." The Fraternal Order of Police has already threatened to file a lawsuit challenging any mandate with the sergeants, lieutenants and captains unions expected to join the fight. Currently, unions are working through negotiations with the Lightfoot administration in hopes to come to an agreement. The new policy applies to all City employees and volunteers. Employees can apply for medical or religious exemption from this policy. Such requests will be reviewed by the Department of Human Resources on a case-by-case basis. 
More than 70 percent (more than 1.6 million) of Chicago residents over 18 have received at least one dose of a COVID-19 vaccine. COVID-19 vaccines are widely available at pharmacies, health care offices, and through special events across the City at no cost to the public. No insurance or government ID are required to receive a vaccination. To learn more, visit Chicago.gov/COVIDvax or call 312-746-4835.