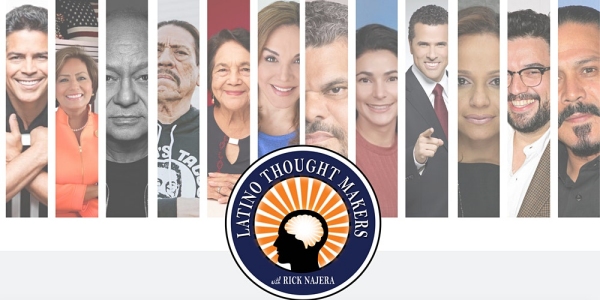 Frida Kahlo: Timeless
Virtual tours of the blockbuster exhibition Frida Kahlo: Timeless with original artwork by iconic Mexican painter Frida Kahlo will continue through October 15th in honor of National Latino Heritage Month. The virtual tour explores the most comprehensive presentation of Kahlo's work displayed in the Chicago area in over 40 years. The on-demand virtual tours accessible to remote audiences and can be accessed at https://theccma.org/ticket-information. Single tickets are priced at $18, and group virtual tours, led by museum docents offering opportunities for discussions, are available Monday – Friday at 10 a.m. or 2 p.m. for groups of up to 25 people ($250) and 26-50 people ($500).
Latino ThoughtMakers with Luis Guzmán
Morton College is excited to bring to you Latino ThoughtMakers Live Interview Series Featuring Latino Innovators in Media and Entertainment moderated and hosted by award-winning writer, producer, author and comedian Rick Najera. Morton College invites you to join the conversation and listen to the insights, stories, and perspectives on issues facing the Latino community. As a Kick-Off to Hispanic Heritage Month, Morton College invites you to join them for their first conversation on Friday, September 24, 2021 starting at 6pm for their Virtual Conversation with Luis Guzmán. For more information, visit www.morton.edu.
World Fashion Festival
Join the World Fashion Festival for three days of runway fashion. They have everything from local, national, and international designers showcasing their talent and a great lineup for your eyes to feast. The fashion show will take place on Friday, Oct. 1st at 6p.m., to Sunday, Oct. 3rd at 9p.m., at Macy's, 111 N. State St. For ticket information, visit www.worldfashionfestival.org.
Wilbur Wright College Presents Unidos Celebramos
To wrap up our month of events we are hosting a block party in the parking lot of Wilbur Wright College's main campus. Winners of the Hispanic Heritage Month Essay Contest will be awarded, the Ballet Folklorico de Chicago will be performing, Ivelisse Diaz and La Escuelita Bombera De Corazon will be performing, and we'll finish the night with two 45-minute sets by salsa band Papo Santiago & Su Orquesta. The event will take place on Friday, Oct. 15th from 4pm to 8pm at Wilbur Wright College, 4300 N. Narragansett Ave. The event is free.
Runway Latinx
This year, the event will be hosted by Pivoting in Heels, a digital Non-for-Profit dedicated to empower women and provide them with insight and professional tips to successfully pivot through every area of their lives. Some of the profits raised during RUNWAY LATINx will be used towards the Pivoting in Heels Intern Scholarship Program. RUNWAY LATINx (RLx) will showcase top Latinx designers in order to expose their artistic talents and bring exquisite fashion to the Chicago stage. Top-chefs and mixologists will also be in the spotlight. The event will take place on Friday, Oct. 15th through Sunday, Oct. 17th at CineCity Studios Chicago, 2429 W. 14th St. For tickets, visit www.runwaylatinx.com.