Courtesy of Quad Cities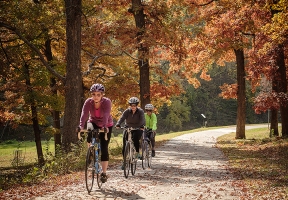 Spend your day outdoors in the Quad Cities, enjoying the cooler temperatures and the beautiful colors.  Located on the world-renowned Mississippi River, the QC has plenty of places to play outside this fall.  Put your phone away and let Mother Nature find you.
Hiking
Put on your sturdy hiking shoes and explore woodland trails designed to engage you with hills, valleys, rocky outcroppings, and beautiful views exploding with fall colors.
The 1,280-acre Scott County Park in Long Grove, Iowa, with so many miles of different trails, along with camping and cabins.  On the north side of the park, you can step back in time at Dan Nagle Walnut Grove Pioneer Village.  A cross-roads settlement and stagecoach stop from the 1860s, this historic site offers 22 historic buildings to explore.
Black Hawk State Historic Site is located along the Rock River in Rock Island, Illinois.  There are six miles of marked hiking trails.  Here you will discover the history of the great warrior Black Hawk and the Sauk and Meskwaki people that once called this region their home.  Stop by the John Hauberg Indian Museum to find out more.
Loud Thunder Forest Preserve offers 1,480 acres of outdoor experiences, including Lake George, a 167-acres lake with depths up to 55 feet and stocked with many varieties of fish and great for kayaking and canoeing.  Hiking and equestrian trails include a two-mile moderate level and a 12-mile continuous moderate level.
Biking
The Great River Trail, American Discovery Trail, and Mississippi River Trail, along with other trails, make this riverfront destination a favorite among cyclists.  www.qctrails.org is an excellent source for all things trail-related in the QC.  Grab your bicycle and explore the miles of trails on both sides of the river.  Or Visit Quad Cities has free rental bicycles from their visitor center for day-time use. One place to explore is Sylvan Island.  Sylvan Island is a former industrial site that covers approximately 35 acres on an island in the Mississippi River/Sylvan Slough.  This 1.2-mile network of multi-use trails runs around and across Moline's Sylvan Island Park where you can see the river, wildlife, and views of the hydropower dam.  The QC offers 45 miles of single-track trails for mountain biking to take you directly into the woods over all types of terrain. 
For a complete list of activities, head over to www.visitquadcities.com, call 800-747-7800 and be sure to connect with us on social media.
Photo Credit: Quad Cities