Compiled by Ashmar Mandou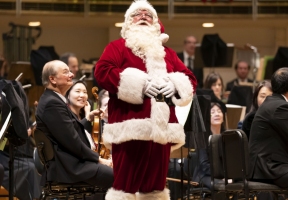 Enjoy the last days of Christmas in Chicago with a few fun-filled events happening around the city from Merry, Merry Chicago at the Symphony Center to hearing holiday sounds with a Latin twist, get your tickets today and get into the spirit.
Chicago Symphony Orchestra's Merry, Merry Chicago!
Through December 23rd
Symphony Center
https://cso.org/performances/21-22/cso-specials/merry-merry-chicago/
The Chicago Symphony Orchestra decks the halls of Symphony Center with the return of its popular Christmas concert, teaming up with Broadway star Jessica Vosk for an evening of holiday standards and festive arrangements of classical compositions. In addition to Christmas carols like "Jingle Bells" and "Oh Come, All ye Faithful," this year's program features selections from Sound of Music and Babes in Toyland.
Mariachi Herencia de México
Dec. 17 Old Town School of Folk Music
Dec. 18 Old Town School of Folk Music
Dec. 19 Thalia Hall
https://linktr.ee/mariachihermex
Chicago-based Mariachi Herencia de México presents its A Very Merry Christmas Concert at the Old Town School of Folk Music and Thalia Hall, playing four shows over the course of three days. Expect to hear plenty of familiar holiday songs with a Latin twist, including renditions of "It's the Most Wonderful Time of the Year," "Winter Wonderland," "Los Peces en el Rio" and  "Christmas Don't Be Late."
The Nutcracker
Civic Opera House
Through December 26th
https://joffrey.org/season-and-tickets/nutcracker/
Having retired cofounder Robert Joffrey's production of The Nutcracker after nearly 30 years, the Joffrey Ballet debuted a brand-new version in 2016, set in Chicago against the backdrop of the 1893 World's Columbian Exposition. This year's production will be staged in the Civic Opera House (where the Lyric Opera also resides), featuring music performed by the Lyric Opera Orchestra and the stunning choreography of Christopher Wheeldon.