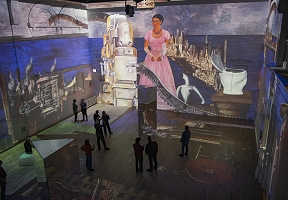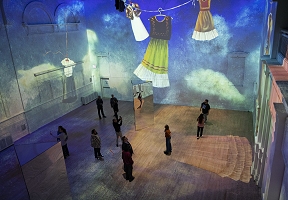 By: Ashmar Mandou
From the producers who brought you the Immersive Van Gogh Exhibit phenomenon, will soon showcase their next endeavor that delves into the life and work of cultural icon, Frida Kahlo in FRIDA: IMMERSIVE DREAM in a fun and interactive approach. The new exhibit will feature 500,000 cubic feet of projections and 1.2 million frames of video where visitors can expect to see her most recognizable works like The Two Fridas (1939), Self-Portrait on the Borderline Between Mexico and the United States (1932), and The Wounded Deer (1946). In anticipation of the Frida: Immersive Dream, associate producer Vicente Fusco talks about the new installation and the life of world-renowned Mexican artist Frida Kahlo.
Connection to Frida Kahlo
Well, personally I feel a strong bond with this project as I am Mexican. Not only is Frida Kahlo a world class artist in her own right, but I feel strongly tied to this as I am well appointed to her history being that I am Mexican and it's a part of our culture. So it's a very exciting project on a personal level.
Frida: Immersive Dream
There is no formula or artist objective. We have grown a lot thanks to the Van Gogh exhibit, we have grown a lot as a company, and we have seen our creative team that is involved with coming up with the next thing take it to the next level. We think at the end of day, Frida being such an empowered figure, a popular icon. She reached people on so many levels and was so ahead of her time that we thought it would be interesting to bring her experience, her work, her personal life on a larger scale. We thought it would be interesting, given we have a immersive experience to just walk into this huge room, the visuals from Massimiliano Siccardi, and the music from Luca Longobardi, which are amazing, and the architecture of the space brings a certain feel to the audience. We thought projecting Frida's paintings would be an amazing thing to bring to Chicago
Frida Kahlo's Legacy
I believe what transcends over time is the empowerment and the attitude of Frida Kahlo. Her strength. As a society we are trending towards more equality and diversity on so many different levels, that looking back on her life without realizing it, Friday Kahlo was already doing so much towards these precise issues in society. It's astounding. It's not just women empowerment, but individual empowerment as well. At the end of the day we are bringing culture and education, it's not just entertainment. There is an element of expanding culture not only from the artist but where they are from, as well. Frida was a great representation of Mexico, she dressed like Mexico, she spoke like Mexico, she drank like Mexico, she ate like Mexico, she is Mexico.
Message to Chicago
Chicago has such a massive Latino community, I would encourage everyone to come out and see this show because, believe me, there are so many aspects to her life that are unknown, even to us Latinos. It will be refreshing to see her work represented on such a grand scale. It's also wonderful to see how relatable it is after all these years. It's a huge undertaking for us, we love the fact that we are able to bring it to Chicago, and we encourage everyone to come out and see it.
FRIDA: IMMERSIVE DREAM Art Exhibit which will arrive in Chicago in February 24th through May 28th, 2022 at the Lighthouse ArtSpace at Germania Club, 108 W. Germania Place. To purchase tickets or for general information, visit www.immersive-frida.com/chicago/. The FRIDA: IMMERSIVE DREAM is brought to you by the Lighthouse Immersive and Maestro Immersive Art.