protestors urge Mayor Lightfoot to end "discriminatory mandate"
By: Ashmar Mandou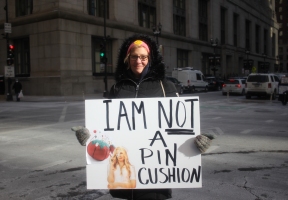 As the City of Chicago began its proof of vaccination requirements to enter public places, such as restaurants, gyms, and entertainment venues, a group of protestors gathered Monday morning outside the James R. Thompson Center to express their outrage over the City's decision, calling it "unconstitutional" and "sad."
"We are here to stand together in protest over a mandate that is tyrannical, unconstitutional, and a move that infringes on our freedoms," said Robert Cruz, a Republican political candidate (IL-6), in front of a crowd of supporters. "We have had enough of lockdowns, of mandates that have been proven not to work, it's time we stand together against these tyrannical tactics."
Prior to the Holidays, Mayor Lori Lightfoot announced that the City of Chicago, alongside the Chicago Department of Business Affairs and Consumer Protection (BACP), and the Chicago Department of Public Health (CDPH) will require individuals ages 5 and up to show proof of vaccination to enter indoor public places, which went into effect Monday.
In a statement to the media, Mayor Lightfoot said, "Despite our diligent and equitable vaccine distribution efforts throughout this year, unfortunately, our city continues to see a surge of COVID-19 Delta and now Omicron cases," said Mayor Lightfoot. "New steps must be taken to protect the health and wellbeing of our residents. This public health order requiring proof of vaccination to visit certain indoor public places is a necessary measure to ensure we can continue to enjoy our city's many amenities as we enter the new year."   According to the CDPH, Chicago is now averaging more than 1,700 new COVID cases in Chicago residents every day, a 79 percent increase from one week ago. Chicago's test positivity rate is now over 7 percent, up from 4.1 percent in mid-December.
However, protestors urged Mayor Lightfoot and Governor JB Pritzker to end the vaccine requirements as businesses and families continue to suffer, calling the vaccine mandates discriminatory. "We are here to protest against vaccine mandates, we believe first and foremost it should be our choice if we want to have this in our bodies. We are here to defend the constitution and our right to decide and to be able to do the things we want to do with our lives," said Kim Sechrist, who was one of the protestors at Monday's rally. "We want to be able to go to gyms, go to restaurants, without being discriminated against because we decided not to have this injection."
"I am here because I feel it is my duty to fight for my freedoms, and not only my freedoms, but everyone's freedoms, including my children because at the end of the day their future is at stake and it is not fair that we are we being cornered, oppressed, segregated, and discriminated against based on our medical decision," said Rebeca Bustos, a former Logan Square resident. "It makes me feel sick because I am all about freedoms and I hate to come to my City and not be able to walk into a restaurant without wearing a mask, and now we are not going to be able to go anywhere without showing papers. I hope they [Mayor Lightfoot and Gov. Pritzker] come to their senses and realize that we the people are not going to comply, we are not okay with this and we will continue to fight."
The next rally against mandates will take place Saturday, Jan. 8th from 10am to noon outside of the Thompson Center.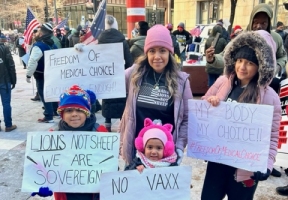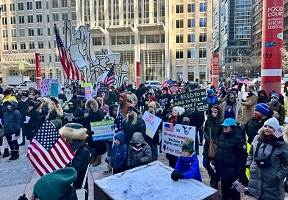 PHOTO CAPTIONS
Kim Sechrist attends the rally against vaccine requirements outside the James R. Thompson Center on January 3rd, 2022
Rebeca Bustos, alongside her children, brave the frigid temperatures on Monday morning to protest the City of Chicago's vaccine mandates.
A large crowd gathers outside the James R. Thompson Center on Monday to protest the City of Chicago's vaccine requirements.