By: Ashmar Mandou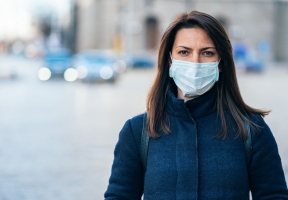 Governor JB Pritzker announced Wednesday during his 2023 budget proposal that he will begin rolling back statewide indoor mask mandate at a few locations. "I have to say it is in an enormous compliment to the people of Illinois, we have done such a great job, no you have done a great job of keeping each other safe," said Gov. Pritzker. Pritzker said Illinois has handled COVID better than other Midwestern states, reiterating that Illinois has the highest vaccination rates and because people are wearing masks. "My intention is, as we've seen these numbers peak and heading downward significantly, to lift the mask mandate in indoor locations by February 28th," he said. The governor stated his decision to lift the mandates was motivated by hospitalization data, stating hospitalizations have been falling consistently for the past seven days, and by more than 60 percent statewide in the past month.
In a recent letter to the Pritzker administration, Illinois House Republican Leader Jim Durkin wrote, "Governor, it has been a long two years and the people deserve to know what you are doing…your lack of plan has forced people to give up hope that they can ever have a normal life in Illinois." The newly lifted mandates will be geared towards malls, restaurants, bars, and places of business, however the lift will not apply to schools. "We still have the sensitive locations of K-12 schools, where we have lots of people, who are joined together in smaller spaces, and so that's something that will come weeks hence," said Pritzker. This announcement comes after a federal judge ruled against mask mandates in schools and countless walkouts from students drained from wearing masks indoors, including the recent walkout from students at Lyons Township High School protesting masks mandates. In Evergreen Park, protests were held along 103rd Street after a Catholic elementary because the school principal at Queen of Martyrs was reportedly placed on administrative leave for deciding to make "masks optional."
More details of the recent rollout to lift mask mandates will be shared in the coming days, as for now individual municipalities can continue to impose their own rules.