By: Ashmar Mandou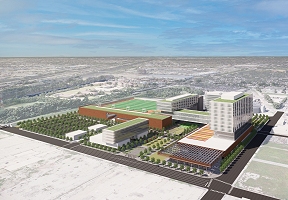 A decade in the making, the highly anticipated development Focal Point Community Campus Project, designed for a new Saint Anthony Hospital was recently approved by the Chicago City Council.
"We started this project about 10 years ago and it's been the hardest journey I've ever taken in my career," said Saint Anthony President and CEO Guy A. Medaglia. "I'm thrilled about the support this project has received from the community, our elected officials and even from individuals outside the state. I'm really looking forward to breaking ground and really getting started for the community." Chicago Southwest Development Corp. (CSDC), a nonprofit created to manage the project, is headed by Medaglia.
Located in the rich tapestry of culture and history of the Little Village and North Lawndale neighborhoods, the Focal Point Community Campus Project will offer mixed-use development and will aim to provide neighborhood residents with great opportunities. The Campus will serve approximately half a million Chicagoans on its sprawled out 30 acres.
"I am proud to bring the Saint Anthony Hospital development at 31st and Kedzie to final city of Chicago approval," said 22nd Ward Alderman Mike Rodriguez. "The hospital has been in our community for several generations, it provides significant amounts of charity care to our most vulnerable residents. The development will benefit the southwest side of Chicago as supported by an overwhelming number of residents and stakeholders who have testified in its support. I look forward to continued engagement with our community as this project moves forward over the next several years."
"I truly believe this is one of those projects we can call a 'transformational project'," said Jaime di Paulo, president of the Illinois Hispanic Chamber of Commerce. "This is going to be the entryway to innovation, to education, to youth development, and to a top-quality hospital; this will be the entryway to La Villita. The Illinois Hispanic Chamber of Commerce, and all our 4,000 members and Latino businessowners are behind this project." The next phase for the Campus will include initial demolition and environmental remediation on the land. The CSDC team has been working for a year with the EPA and EPA consultants on a constructive remediation plan. Construction is expected to begin in 2023 with a final project launch completion targeted for 2025. The new Focal Point Community Campus will feature:
• Major retail tenants, providing community members access to food, clothing, and household items.
• A newly constructed Saint Anthony Hospital, which will continue to provide emergency and medical care.
• An education center offering a variety of educational opportunities including a charter school and trade, to name a few of the multiple features.