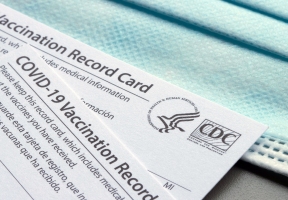 The national nonprofit law firm Liberty Justice Center has filed a federal lawsuit against the City of Chicago and Cook County to end their illegal and discriminatory "proof of vaccination" requirements. The city and greater Chicago area currently require anyone above the age of 5 to show proof of receiving the COVID vaccine to dine indoors, visit gyms, or enjoy entertainment venues where food or drink are being served. Liberty Justice Center is the same law firm that sued over the federal vaccine mandate for private businesses in November 2021, and was successful in securing a nationwide injunction halting its enforcement the very next day. The federal lawsuit was filed on behalf of eight residents of Chicago and Cook County. The federal lawsuit was filed in the U.S. District Court for the Northern District of Illinois. Chicago and Cook County residents claim the orders violate the rights of equal protection, due process and freedom of religion provided by the U.S. Constitution, while also violating state law, the Illinois state constitution and Chicago's own municipal code.
In the coming days, attorneys will file a Motion for Preliminary Injunction to request that the proof of vaccination orders be immediately suspended. The lawsuit comes at a time when almost the entire country does not have a mask mandate for participating in civic life or in schools, or any "proof of vaccination" requirement for soliciting private businesses. It also comes after Illinois Gov. J.B. Pritzker announced the impending end of one of the country's few remaining statewide indoor mask mandates. Meanwhile, Americans now have a wide toolkit to protect themselves and determine their personal risk tolerance for the virus. Not only that, but hospitalization rates are also plummeting due to the natural seasonality of the virus, irrespective of these illegal and unscientific mandates.
Connolly v. Lightfoot, was filed on Feb. 10, 2022, in the United State District Court for the Northern District of Illinois. Case filings are available at https://libertyjusticecenter.org/media/chicago-proof-of-vaccination.