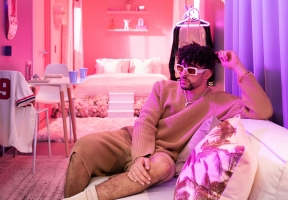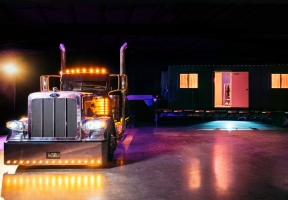 With a body of work masterfully dismantling cultural norms and amassing over 9.1 billion plays on Spotify, Puerto Rican singer-songwriter and actor (oh, and occasional wrestler), Bad Bunny sigue haciendo historia in his latest endeavor as Airbnb Host. After staying in Airbnbs himself in the past year, the chart-topping artist is becoming an Airbnb Host for the first time, inviting select fans to spend una noche aboard his larger-than-life matte black big rig – a one-of-a-kind truck with a 53' trailer, following the last stop on his sold-out El Último Tour Del Mundo 2022 tour in Miami. "Being on tour has reconnected me with my fans and the energy they give me during each show in every city we visit is incredible" the artist said. "I'm hoping that by hosting guests in my truck I can give them a chance to feel like they're on tour with me. This truck has played such a big role in the concept of my tour and my last album that I want to share this unique experience with them."
Bad Bunny will open the doors to his big rig for three individual one-night stays* occurring on April 6, April 7 and April 8 for two guests each at only $91** a night – a nod to his record-breaking 9.1 billion Spotify streams in 2021. Guests will have la oportunidad de sus vidas to experience a space that explores Bad Bunny's past, present and future, both on and off the stage, including:
● VIP tickets to his sold-out tour in Miami ahead of the stay (travel and lodging not included) and a virtual greeting from Bad Bunny himself upon arrival
● Nods to Benito's Puerto Rican culture and his familial roots, including a kitchen designed to make you feel like you're right back in la isla del encanto
● A photoshoot with the big rig to live out guests' inner superstar fantasies
● A sound system so you can play (or sing yourself) Bad Bunny's hottest tracks
● A tour of Bad Bunny's favorite Miami stops
● Unfortunately, Bad Bunny won't be able to meet guests in-person, but he will leave you a recorded virtual greeting upon arrival
Bad Bunny fans can request to book this stay at airbnb.com/badbunny.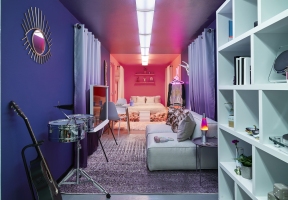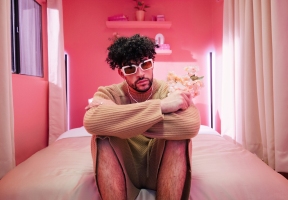 Photo Credit Eric Rojas