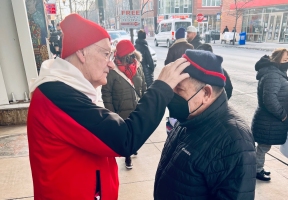 By: Ashmar Mandou
In an effort to combat violence and encourage peace, faith based leaders from Catholic and Christian Churches in the Pilsen neighborhood called on community members to hold a ceasefire as the "40 Days of Peace" campaign kicked off on Ash Wednesday.
"This is an opportunity to pray for peace, not only for the people in our own communities but around the world," said Fr. Mike Enright, Pastor of St. Paul Catholic Church. "We are all children of a loving God, a God who weeps also for those who commit violence upon others. We, as His children, are called to bring peace through our words and our actions," he continued.
The coalition of faith based leaders, known as the Pilsen Faith Table Initiative, calls on all churches, businesses and neighbors of Pilsen to be peacemakers in the neighborhood and together seek an end to violence. The Pilsen Faith Table Initiative is made up of churches and organizations including St. Paul Catholic Church, St. Pius V Catholic Church, St. Procopius – Providence of God Catholic Church, New Life Community Church, Lincoln United Methodist Church, Bethel Temple, Hope Church Pilsen, The Resurrection Project, and the Healthy Hood.
Ministers and priests from the seven Pilsen churches offered prayers and ashes to residents on Wednesday morning and evening at the 18th Station (Pink Line) and the Damen Station (Pink Line). Neighbors gathered for prayer huddles, received ashes, and were encouraged to spread messages of peace throughout Lent.
"We are asking for prayers and peace from all the violence that is happening in our communities every day, taking the lives of our young kids," said Dalia Radecki, Pilsen resident and community leader with The Resurrection Project. "We know peace begins at the home, so we are asking parents to become more involved, to be more caring. We are losing a lot of young kids to violence, so we are asking parents and everyone to step up. Violence needs to stop."
"We are promoting Forty Days of Peace, but of course we are praying to God for 4,000 years of peace, but we have gotten together with other faith-based movements, our beliefs may be different, but we are together focusing on peace in Pilsen. We are here doing our thing and praying for those who allow us to pray for them," said Pastor Johnny Delgado of Bethel Temple.
"We are praying and taking actionable steps to bring down the violence," said Pastor Steve Cuchra of Hope Church in Pilsen. "As the weather starts to warm up, the gangs come out. We are trying to be the example of Christ and be the example of showing that even if we come from different beliefs, there doesn't have to be wars. We are coming together by example to show that we are all brothers and sisters." The "40 Days of Peace" campaign is set to run thru Easter Sunday, April 17, 2022. For additional information on events in the coming weeks, visit www.resurrectionproject.org.