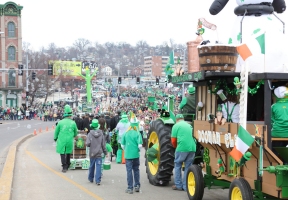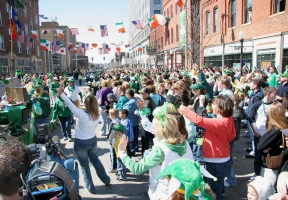 Visitors and residents alike will tell you that the Quad Cities puts on one of the best St. Patrick's Day parades in the Midwest, and Iowa's largest St. Patrick's Day party. Heralded as the only interstate St. Patrick's Day Parade in the nation, the Quad Cities Grand Parade XXXVI on Saturday, March 12, 2022, begins in downtown Rock Island, Illinois, and winds its way to the Centennial Bridge.  Then it crosses the bridge over the Mississippi River and marches into downtown Davenport, Iowa.
Named as one of the top ten St. Patrick's Day Parades in North America, this annual parade, organized by the St. Patrick Society of the Quad Cities, starts at 11:30 a.m. on Saturday, March 12, and ends by 1:30 p.m.  Thousands line the streets to watch the bands, Irish dancers, floats, groups, and family clans.  For more information on the Grand Parade XXXVI weekend and a map of the parade route, visit the St. Patrick Society's website at www.stpatsqc.com. 
The Quad Cities is located on the Mississippi River and is made up of the riverfront cities of Davenport and Bettendorf in Iowa, and Moline, East Moline and Rock Island in Illinois.  The area is just a 2-½ hour drive from Des Moines, Iowa, and Chicago, Illinois.  It is easily accessible via I-80, I-74, I-88 and several major state highways.  Visit Quad Cities is the region's official destination management organization.  For more information, visit www.visitquadcities.com.