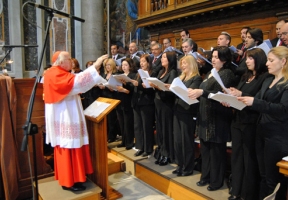 El Coro Cardenal Bartolucci, directamente de Roma interpretará una selección de música sacra de celebraciones papales y arias favoritas muy conocidas de óperas italianas. Por casi cincuenta años, el Cardenal Bartolucci, el 'músico de los papas' supervisó la música de las liturgias sacras de los sucesores de San Pedro. Se hizo conocido entre las varias capillas musicales de las Basílicas papales y en 1956, con solo 39 años, el Papa Pio XII le otorgó el prestigioso oficio de Maestro Perpétuo y Director del Coro de la Capilla Sixtina. Durante esta primera visita a Chicago, bajo el patrocinio del Instituto Pontifical de Música Sagrada (Vaticano); el Coro actuará en los siguientees lugares. La actuación principal del coro será en la Universidad Northeastern Illinois el Viernes, 22 de abril del 2022 a las 11:30 a.m. para estudiantes y maestros y una actuación vespertina para el público en general a las 7:30 p.m. Las entradas de cortesía son escasas, por lo que visite la red para eeservaciones en: neiu.edu/tickets.
Debido a la demanda popular, el Coro del Cardenal Bartolucci agrgará algunas actuaciones más durante su programa en Chicago la próxima semana. Los siguientes conciertos adicionales han sido agregados:
• Des Plaines Theatre – miércoles, 20 de abril 2022 a las 7:00 p.m. Se aprecian las donaciones. Boletos disponibles en: oshows.com
• Our lady of Pompeii Shrine – Viernes 23 de abril, 2022 a las 7:30 p.m. Visite su red en: Cultural – The Shrine of Our Lady of Pompeii.