By: Ashmar Mandou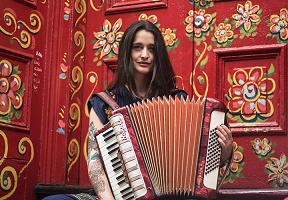 Accordion wielding, piano playing, Chilean songstress Pascuala Llabaca and her band Fauna will be in Chicago and Rockford this week as part of their 2022 La Curiosidad International Tour. Known for incorporating the traditional sounds of Chile with jazz, punk, and rock rhythms, Llabaca and her band use their explosive sound to help tell stories of feminism and what is means to be a Latina American woman. "It's very important to show the many sides of what it means to be Latin American, especially to be a Latin American woman," said Llabaca during a phone interview. "I am an indigenous woman and I like to tell the stories of my culture, of my people, of where we are from, of the repression we experience, how we are all so different. It's important to show the many sides of Latin America, which I am very excited to share with Chicago."
Llabaca, hailing from Valparaiso, Chile, infuses various eclectic sounds that sets her apart from her peers, thanks to the rich musical diversity and history of her hometown. "We received, since the 18th century a surge of immigration…of people from the mountains and from the villages bringing their own native music and instruments. We also received a lot of people from the UK and the United States," said Llabaca. "Even though our music is steeped in traditional sounds, which a lot of people may think of as pure, there is also a lot of punk and rock that fuses together. There is a diversity in our sound, there is history, which makes it even more enjoyable." Ahead of her concerts, Llabaca shared what she's looking forward to the most on this tour.
Returning to the Stage
It feels very necessary because we have been in isolation for so long making it difficult to grow, to evolve. We were living in a bubble. It's important to share with different people, to absorb all the different ways of thinking, of arguments, of being, and to share all the different ways of living life. It's important to break those bubbles.
Feminism
Trying to speak about feelings, relationships, and love in a contemporary way that represents women and diversity can be challenging but so important. In Latin American music, artists speak about love, but in a way that I feel doesn't represent me and a lot of people feel that way. We are looking for a different kind love and relationship. Not one that is tortured kind, not one that promotes violence within a relationship. Now we are in an important moment for feminism and everyday there are a lot of women who feel repressed, who feel invisible…it's all very interesting to represent and to share this new way of thinking about love and relationships, of self-love and of freedom.
Musical Advice
Search for all the tools that you can because sometimes we are afraid to be different, to use different sounds to represent our way of thinking, our ability to share our song. Musical diversity is important…the way you structure your ideas is very important, it doesn't have to be this binary structure, this monoculture of sound, of music. You can experiment with varying sounds, of traditional sounds, of different perspectives to represent what you want to say. Explore all the tools you have at your disposal.
You can find Pascuala Llabaca and Fauna at the following locations:
Saturday, June 25
9pm
Martyr's, Chicago, IL
Tuesday, June 28
7pm (Free Concert)
Sinnissippi Gardens, Rockford, IL