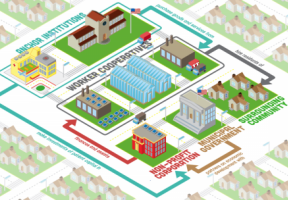 Mayor Lori E. Lightfoot, the Office of Equity and Racial Justice (OERJ), and the Department of Planning and Development (DPD) launched the Community Wealth Building Pilot, a $15 million program to create opportunities for low-income residents to build wealth through shared asset ownership. The pilot program, supported by funding from   the Chicago Recovery Plan, will address access to business ownership, home ownership, land stewardship, and commercial real estate. The City of Chicago defines Community Wealth Building (CWB) as an approach to economic development that promotes the local, democratic, and shared ownership and control of community assets in order to transform our economy to be more sustainable and just. The City's $15 million pilot program will invest in four specific CWB models:   
• Worker Cooperative (Business Ownership) – Business owned & democratically controlled by its employees, rather than by one owner, several partners, or outside shareholders   
• Limited-Equity Housing Cooperative (Home Ownership) – Housing owned & managed by a cooperative made up of low-income members who each purchase shares at below-market rates   
• Community Land Trusts (Land Stewardship) – Organization governed by community owns land in perpetuity while residential and commercial tenants own or rent the structures atop the land via a 99-year ground lease  
 
• Community Investment Vehicle (Commercial Real Estate) – a legal investment mechanism that provides collective community investment in neighborhood assets based on shared development goal(s). In its perfect form, it is majority-controlled, majority-owned and designed by residents or local members  
 
To learn more visit chicago.gov/recoveryplan.