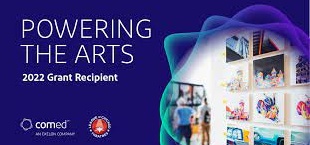 After two years of disruptions due to the pandemic, in-person performances and theaters are back in northern Illinois. To increase access to the arts in northern Illinois, ComEd and the League of Chicago Theatres today announced that they have awarded $160,000 in funding to local community arts organizations across the region. Through ComEd's annual Powering the Arts Program, individual grants ranging from $10,000-$25,000 will go to 18 nonprofit organizations, including local theatres, arts programs, cultural organizations, and youth centers. This is the fifth year ComEd has partnered with the League of Chicago Theatres, an alliance of more than 200 Chicago theatres. This year's recipients include art programs that preserve cultural tradition, tell diverse stories and support access to the arts for youth. A few of the recipients include:
• Albany Park Theater Project (Chicago – Albany Park) – Albany Park Theater Project creates transformative experiences that forge an inclusive community of youth, adult artists, and audiences to build a more just, equitable, and joyful world. This grant will support Albany Park's production of "Port of Entry," a new, immersive, site-specific production inspired by the lives of immigrants in the Albany Park neighborhood over the last 100 years. The scale of this new production will greatly increase the company's capacity to engage and employ young people in the creation process.
• Cerqua Rivera Dance Theatre (Chicago – Loop) – Cerqua Rivera Dance Theatre's mission is to use multiple artistic forms (primarily dance and music) and the combined talents of their diverse company to convey intense personal narratives. They are proudly and visibly multicultural, exploring the intersection of heritage, culture, and identity through high quality art. This grant will support Cerqua Rivera's presentation of a concert in partnership with the Segundo Ruiz Belvis Cultural Center as part of their 2023 Spring Concert Series: "America / Americans."
• Ballet Folklorico de Chicago (Chicago – Portage Park) – Ballet Folklorico de Chicago is a non-profit Mexican folkloric dance organization that provides cultural and dance instruction in the Chicagoland area. They provide cultural knowledge and help to preserve traditions for future generations while increasing their communities' involvement in the arts. This grant will support outreach efforts and free attendance for low-income students participating in Ballet Folklorico's upcoming anniversary celebration and their ongoing "'Conserving' our Traditions" program.
• International Latino Cultural Center (Chicago – River North) – The International Latino Cultural Center is an organization enriching Chicago's cultural scene by promoting positive images of Latinos, breaking stereotypes, and bringing everyone together to experience all Latino cultures. This grant will support outreach and expansion efforts surrounding the organization's various programs, such as the "Chicago Latino Film Festival," "Reel Film Club," "The Chicago Latino Music Series," and "Film in the Parks."