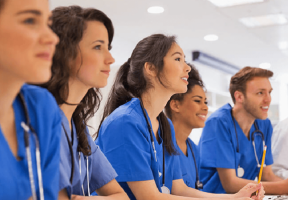 Edward Hines Jr. VA Hospital will host an employment hiring fair and healthcare enrollment event on Saturday, Sept. 24, 2022, from 10 a.m. to 2 p.m. The event will be held in the main lobby of Hines VA Hospital, 5000 S. 5th Ave., Hines, IL 60141. Federal employment positions are available throughout the hospital and six outpatient clinics, with special emphasis for:
• Registered Nurses (RN)
• Licensed Practical Nurses (LPN)
• Nursing Aides
• Pharmaceutical Technician
• Food service workers
Hines VA representatives will be available to answer questions. Applications will be accepted, and on-the-spot interviews will be available for some positions. Applicants must bring a current resume and two references. Applying Veterans must provide a Schedule-A Letter, DD-214 and Service-Connected Disability Letter, if applicable.  If unable to attend, interest parties can submit resumes to HinesIsHiring@va.gov. Additional employment opportunities at Hines VA are listed at USAJobs.gov. To learn more about VA Healthcare, visit VA.gov/health-care.