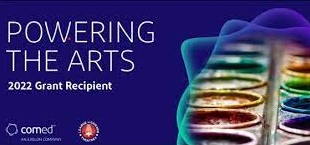 Después de dos años de interrupciones debido a la pandemia, las presentaciones en vivo y los teatros regresan al norte de Illinois. Para aumentar el acceso a las artes en el norte de Illinois, ComEd y la Liga de Teatros de Chicago anunció haber otorgado $160,000 en fondos a organizaciones de arte de las comunidades locales de la región. A través del programa anual Powering the Arts de ComEd, las subvenciones individuales oscilan entre $10,000 y $25,000 e irán a 18 organizaciones no lucrativas, incluyendo teatros locales, programas de arte, organizaciones culturales y centros juveniles. Este es el quinto año que ComEd se asocia con la Liga de Teatros de Chicago, una alianza de más de 200 teatros de Chicago. Los recipientes de este año incluyen programas de arte que preservan la tradición cultural, cuentan historias diversas y apoyan el acceso de la juventud a las artes. Unos cuantos de los recipientes incluyen a:
• Proyecto de Teatro Albany Park (Chicago – Albany Park) – El Proyecto de Teatro Albany Park crea experiencias transformadoras que forjan una comunidad de jóvenes inclusiva, artistas adultos y audiencias para establecer un mundo más justo, equitativo y alegre. Este subsidio apoyará la producción de Albany Park "Port of Entry" [Puerto de Entrada] una nueva producción inmersiva y específica del sitio inspirada en la vida de los inmigrantes en el vecindario de Albany Park durante los últimos 100 años. La escala de esta nueva producción aumentará considerablemente la capacidad de la empresa para involucrar y emplear a los jóvenes en el proceso de creación.
• Cerqua Rivera Dance Theatre (Chicago – Loop) – La misión de Cerqua Rivera Dance Theatre es utilizar mútiples formas artísticas (principalmente baile y música) y talentos combinados de compañías diversas para transmitir narraciones personales intensas. Son orgullosa y visiblemente multiculturales, explorando la intersección de la herencia, la cultura y la identidad a través del arte de alta calidad. Este subsidio apoyará la presentación de un concierto de Cerqua Rivera en colaboración con el Centro Cultural Segundo Ruiz Belvis como parte de su Serie de Conciertos de Primavera: "America / Americans."
• Ballet Folklorico de Chicago (Chicago – Portage Park) – El Ballet Folklórico de Chicago es una organización de danza folklórica mexicana, no lucrativa, que ofrece instrucción cultural y de danza en el área de Chicago. Proveen conocimiento cultural y ayudan a preservar las tradiciones para futuras generaciones mientras aumentan la participación de sus comunidades en las artes. Este subsidio apoyará los esfuerzos de enlace y la asistencia gratuita para los estudiantes de bajos ingresos que participen en la próxima celebración de aniversario del Ballet Folklórico y su contínuo programa "Conservando nuestras Tradiciones".
• Centro Cultural Latino Internacional (Chicago – River North) – El Centro Cultural Latino Internacional es una organización que enriquece la escena cultural de Chicago promoviendo imágenes positivas de los latinos, rompiendo estereotipos y reuniendo a todos para experimentar todas las culturas latinas. Este subsidio apoyará los esfuerzos de enlace y expansión que rodean los varios programas de la organización como el "Festival de Cine Latino de Chicago", "Reel Film Club," "La Serie de Música Latina de Chicago" y "Cine en los Parques"