By: Ashmar Mandou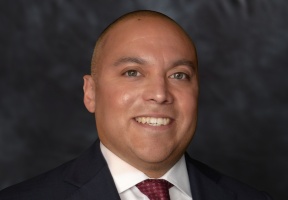 Emigrating from Northeast Mexico to the United States, Chicago Commons CEO Edgar Ramirez has always fostered a sense of altruism since youth. Growing up in an immigrant community in Chicago, he witnessed firsthand how under-resourced communities could reach higher achievements by working together. Ramirez joined Chicago Commons in 2010 as an Associate Executive Director and became CEO in 2013. During his tenure, Ramirez and Chicago Commons have helped strengthen communities to overcome barriers by creating opportunities that facilitate individual and collective empowerment. We place a spotlight on the work and achievements of Ramirez in hopes his story will inspire you to make a difference in your community.
Lawndale Bilingual News: You are no stranger to volunteerism as you have devoted several years to community service since youth. What motivated you to give back?
Chicago Commons CEO Edgar Ramirez: Personally, it started when I was young. I immigrated from Northeast Mexico to Chicago with my family, and when we were established in Albany Park, a diverse immigrant community, my mother became active in the community through Church and school. But, it wasn't just my mother who inspired me, it was the entire community that helped create a strong sense of family across neighborhoods. I saw firsthand how underserved neighborhoods could get things done through collaboration and when we worked together for the benefit of the entire community. I carried this with me throughout my education as well, knowing that one day I could channel this passion to build up communities, help youth find opportunities and support immigrants into my career.
What circumstances occurred in your life that led you to cross paths with Chicago Commons?
Throughout my career and education, I really became a community organizer. I have worked on issues such as youth and leadership development, green space improvement, anti-violence campaigns, comprehensive immigration reform and tackling issues around child care income eligibility. It has been very important to me to work in areas where I could make significant improvements in the community, and Chicago Commons is an organization that strives to make changes in each individual's life.
Since joining Chicago Commons, what have been your proudest achievements and moments?
The last two years have tested all of us in myriad ways, many of which we could never have predicted and families are still experiencing ongoing challenges due to the pandemic. In times like these, resiliency matters—and our team has shown resilience in the innovative ways they have continued to support and empower the children, families and seniors in our care. And, last year, we were awarded a five-year grant from the Office of Head Start. These funds enabled us to expand and enhance our early childhood education offerings.
How would you describe the impact Chicago Commons has had in the community?
Chicago Commons has been strengthening communities for more than 128 years, which is incredible. We provide high-quality services and support systems to more than 3,500 individuals that have created a lasting impact and empowered individuals, families, seniors and communities to overcome the barriers they face. We also have an innovative multi-generational approach, which is really important in the Hispanic community. That approach helps improve economic mobility and family well-being for everyone.
As we celebrate the contributions of Latinos during Hispanic Heritage Month, what does this month signify to you?
My culture and heritage are a key part of my identity and frame my values of family and community. Growing up in a diverse immigrant community, we knew nothing was stronger than those things, and that idea has been reinforced in every part of my life. I have seen firsthand the struggles that people within my community face, and I want to pave the way for future generations by creating opportunities and knocking down barriers. We should work to make the path easier for each generation that comes. Hispanic Heritage Month is also about the rest of the world recognizing the incredible contributions of the Hispanic community. We are a vibrant part of America, and I couldn't be prouder of us.