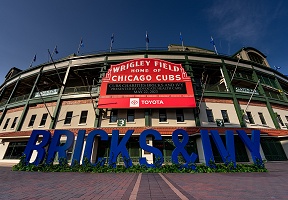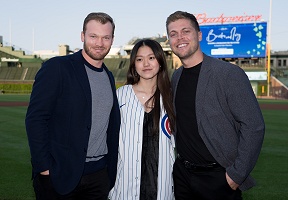 Cubs Charities released key activities and initiatives being celebrated this month. Highlights include community moments throughout the city as well as events tied to Cubs Charities' youth and fundraising efforts. "Cubs Charities is more than baseball," said Alicia Gonzalez, Executive Director of Cubs Charities. "It's cultivated partnerships, community investment in the form of direct programs and grantmaking, in addition to striving to be a true partner with our youth, families, communities, schools, organizations and more." See below to learn more about how Cubs Charities' aim to further opportunities for youth, engage communities and fundraise for the future.
Cubs Charities Spotlight Week
May 22-26 marks "Cubs Charities Spotlight Week" and to celebrate, the Chicago Cubs will highlight Cubs Charities' work and programs during home games. From first pitches to features on the video board, the week will be a celebration showcasing how the nonprofit utilizes sports to impact lives and support a more equitable and inclusive city through programs including Cubs Jr. All-Stars (CJAS), Careers as Sports Executives (CASE) Study Program, Cubs Scholars, Diamond Project and Cubs Nike RBI.
Cubs Scholars Announces Incoming Class of 2023
Additionally, during Cubs Charities Spotlight Week, the incoming class of 2023 Cubs Scholars will be announced. The program offers a team-sponsored mentorship program designed to promote academic achievement and post-secondary educational advancement to high-potential Chicago students with a demonstrated need for financial contributions. Each recipient receives a $20,000 scholarship upon their enrollment in a four-year college or university and participates in a mentoring program with support from Cubs College Prep. Since 2013, Cubs Charities has sponsored 72 Cubs Scholars and committed $1.44 million in scholarship dollars.
For more information about Cub Charities, visit www.cubscharities.org.
Photo Credit: Cubs Productions