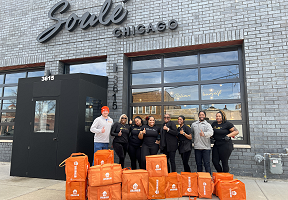 During Hunger Action Month this September, Grubhub is making an impact with new partnerships and efforts in Chicago, New York and in other key cities. According to this year's August Consumer Food Insights Report, the U.S. continues to confront food insecurity, with 14 percent of the population considered food insecure. In addition to their year-long programs and partnerships that help bridge the hunger gap, this month they are rolling out several new efforts. These include a new Grubhub microgrant program that will support Chicago nonprofits, a partnership with the Greater Chicago Food Depository (Food Depository) that will significantly increase meal distribution in areas of the city with high levels of food insecurity, serving as the official Hunger Action Month sponsor of Food Bank for NYC's (FBNYC) activities and hosting a series of Serving the City (STC) events. Grubhub is introducing two new Chicago initiatives:
• New $1 million microgrant program to support local nonprofits tackling food insecurity. Grubhub is introducing a microgrant program, with operational support from the Food Depository and Nourishing Hope, benefiting Chicago-based nonprofits. The program, made possible by the Grubhub Community Fund*, will direct up to $1 million in grant funding to organizations providing access to food and meal services. We'll open up the application period for interested nonprofits in early October.
• More nutritious, made-from-scratch meals distributed through the Food Depository's expanded prepared meal programs. We are partnering with the Food Depository to aid in the expansion of their prepared meals program. These meals support Chicago families, older adults, people with disabilities and individuals with medically tailored diets. In early 2024, the Food Depository will open an expanded facility with eventual plans to prepare, source and distribute up to 10,000 meals per day.