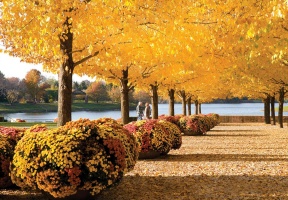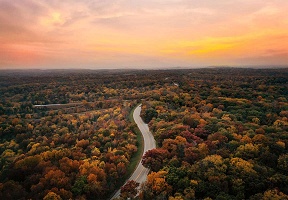 With the first day of fall (Saturday, Sept. 23) just around the corner, the Illinois Office of Tourism (IOT) announced the launch of its highly anticipated annual Illinois Fall Colors Trip Planner in partnership with the Illinois Department of Natural Resources. This valuable, interactive resource provides residents and visitors the opportunity to discover the best times to spot stunning fall foliage in all corners of the state, supporting local communities and small businesses along the way. Along with the interactive Illinois Fall Colors Trip Planner, IOT also offers an extensive collection of seasonal trip ideas – ranging from exciting pumpkin patches to visit, to quirky fall festivals and delicious autumnal menu options to discover around the state. IOT also unveiled its latest seasonal TV spots for the "Middle of Everything" campaign, starring Emmy and Golden Globe award-winning actress and director, Jane Lynch. A few of the seasonal highlights include: Camp Aramoni in Tonica, Illinois' first-ever luxury campground – includes the following features:
• An exploration of Illinois craft beer trails, like the Lake County Libation Trail in Chicago's north suburbs, spotlighting where to sample seasonal ales and discover local charm from breweries around the state.
• Family-friendly outdoor adventures like the Alpine Coaster in Grafton where visitors can weave through Pere Marquette State Park's changing colors on a thrilling ride.
• Cozy cabin stays for the winter months, including rustic lodging found in Giant City State Park in Makanda.
To view the 2023 Falls Colors Trip Planner and learn more about planning a fall getaway in Illinois, visit EnjoyIllinois.com.
Photo Credit: Enjoy Illinois