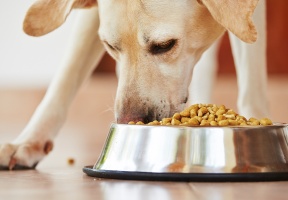 A Center for Disease Control and Prevention food safety alert regarding an outbreak of Salmonella has been shared recently, which included the following points:  
• This outbreak has been linked to Victor brand Hi-Pro Plus dry dog food, manufactured by Mid America Pet Food. The outbreak strain was found in this pet food during routine testing. 
• FDA has announced recalls for several dog and cat food brands made by Mid America Pet Food. See CDC's outbreak notice for more details on each recall.  
• Infants and young children can get sick from contaminated pet food if they have access to pet food bowls on the floor, handle or put pet food in their mouths, or if caregivers don't wash hands after feeding pets.  
What Pet Owners Should Do: 
• Throw away recalled pet food in a sealed trash bag and place it in a sealed trash can.  
Don't let children touch the recalled pet food.   
Don't feed recalled pet food to pets or other animals.  
Don't donate recalled pet food.  
• Clean surfaces and items, including pet items that might have touched the recalled pet food. Wash your hands after feeding your pets or touching pet items. 
• Contact the pet food company if you have any questions about the recall. 
Email info@mapf.com or call 1-888-428-7544 from 8 AM to 5 PM Central Time, Monday
For more information, see FDA's Salmonellosis in Dogs and Cats page.