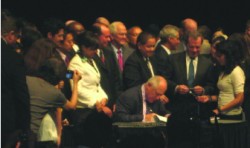 Governor Pat Quinn signed historic legislation on Monday, Aug. 1 to increase education opportunities to children of immigrants in Illinois. "All children have the right to a first-class education," Governor Quinn said. "The Illinois DREAM Act creates more opportunities for the children of immigrants to achieve a fulfilling career, brighter future and better life through higher education."
Senate Bill 2185, sponsored by Senate President John Cullerton (D-Chicago) and Rep. Eddie Acevedo (D-Chicago), establishes a nine-member Illinois DREAM Fund Commission to manage the program, whose members are appointed by the Governor. The commission will help establish privately-funded scholarships for students who have resided with their parents while attending high school in Illinois, earned their high school diploma, attended school in Illinois for at least three years, and have at least one parent who immigrated to the United States.
"Immigrants are a driving force in our city's cultural and economic life, and opening the way for all Chicago students to earn an excellent higher education will make our city even stronger," said Chicago Mayor Rahm Emanuel. With an estimated 65 percent of immigrant students coming from households earning below 200 percent of the poverty line, the financial barriers to higher education for academically qualified immigrant students are steep. Through the DREAM commission, Illinois leaders will now be able to raise private funds to help these students achieve their full potential.