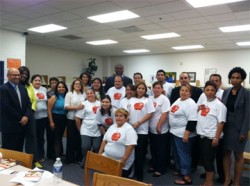 In a meeting Wednesday Aug. 31 at Orozco Community Academy, over 20 parents from the Academy of Parents in Leadership, (APL) – with a majority made up of parents and several community leaders, gathered to meet with CEO of Chicago Public Schools (CPS), Jean-Claude Brizard to confer plans about education funding in Chicago's Southwest Side schools, and to ask for support of other education efforts in order to improve the quality of education for children in CPS. Members of APL represented schools from Brighton Park, Little Village, Back of the Yards, and Pilsen.
Also present was, Steve Srike, CEO of Pilsen Little Village Network and Chief Family and Community Engagement Officer Jamkio Rose. During the meeting, Ruth Peña, a parent and former teacher spoke about the need for an early childhood education programs in Southwest side schools. "As a parent and former Head Start teacher, I can see the positive, social and emotional impacts of a full day program," said Peña.
Brizard agreed to work and support APL parents on benefiting from the 6,000 full-day early childhood seats included in the preliminary budget for fiscal year 2012. "We are trying to be very equitable…we targeted cities in the area with the greatest need," said Brizard. In addition, parents asked for support on after school tutoring services, and on improving the Parent Involvement Advisory Council (PAIC) where parent involvement is "low," according to Jose F. Henandez, president and CEO of the parent organization, Local School Council-Member Alliance of Chicago (LSC MAC) and member of APL. Hernandez proposed that PAIC "elect," parents to the council, rather than "appoint" them by CPS.
Rose, responsible for LSCs, parent and community group engagement will be working with APL parents on these efforts. Rose was appointed by Brizard last week. "I am here to listen and work with you," she said. "Mr. Brizard has a very comprehensive approach that includes all stakeholders," said Hernandez. "He has made changes at the central office, and will continue to make changes that will include a more inclusive and responsible parental involvement. Hispanic communities want to benefit from those 6,000 slots for early childhood education. We want to work side by side with CPS in the search and execution of solutions to the many challenges we face." The APL is an education initiative of Pilsen Neighbors Community Council and Gamaliel of Metro Chicago. For more information, visit www.pilsenneighbors.org.