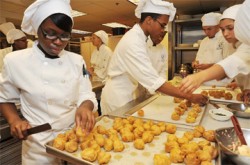 After School Matters is currently accepting applications for its Summer apprenticeship and internship programs, most of which begin July 1 or July 8th. Programs in the arts, communications, science, sports, and technology will be offered at 30 Chicago Public Schools high schools, more than 120 community organizations and multiple Chicago Park District locations across the city.
In total, approximately 7,000 paid apprenticeship and internship opportunities in more than 230 programs will be available to Chicago teens this summer. After School Matters Summer programs typically meet four to five days a week for four hours over the course of six weeks. Summer apprentices will earn a program stipend of up to $420 and interns will earn $8.25 per hour. Additionally, this summer all participating teens will receive reduced fare student riding permits from the Chicago Transit Authority, which will allow them to ride to and from programs at a discounted rate.
Teens can search and apply online for programs offered at locations in and around their neighborhood at www.afterschoolmatters.org.