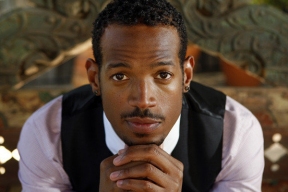 By: Amelia Orozco
Follow me on Twitter: @Amelia_Orozco
Marlon Wayans stars in "Fifty Shades of Black," a parody of the popular novel and movie, "50 Shades of Grey." Marlon makes funny look easy in this comedy, which he also helped produce with Rick Alvarez ("Scary Movie," "White Chicks"). The cast includes Kali Hawk and Mike Epps. Wayans tells LAWNDALE NEWS why he likes to work out, how his roles are an extension of himself and how grateful he is to be doing what he loves.
How do you handle eating well even on the road? You just gotta make the choice and do it. Life is hard. You make choices. You don't complain. I work out not only because I want to look good, but because I want to be ready. Physical conditioning is a spiritual commitment, more than it is a physical thing. Physically is just the first place you see results. For the movie, I relieved myself about looking good, and then it was just about being funny.
Did you have it hard as a kid? It was hard, but my house was full of love. My parents loved the hell out of us. They made sure we stayed out of trouble. I had a lot of good friends. Some of them are in jail. Some of them didn't do the right things. At the end of the day, I still love them. It was not as bad as it could have been. Our block was all love. I can't be mad about my experience. I'm very grateful and I wouldn't change it.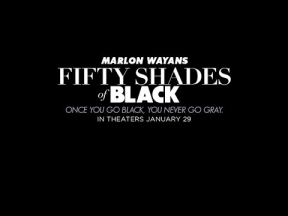 Tell us about your role in "50 Shades." It's really funny. Christian Black is rich; not sure, really, how he made his money. He's a little shady. And he's a really bad lover. The story is pretty similar to the "50 Shades of Grey" story, except we found all the loopholes and all the jokes, it's still a crazy twisted journey, but ours is a crazy, twisted, hilarious story.
When you were starting out, how hard was it to film a love scene? It was a lot of fun. I remember I did one in "Requiem" and in "Don't Be a Menace." As you get older, it's a lot more work, especially on this one. In some movies you have up to 60 days to shoot. For this, we had 20 days to shoot and on the first day we had to shoot Kali and me kiss, and nobody would give Kali gum. I'm joking.
How are you around the set? If you ask the crew they will say I'm fun to work with. I have a good time. I love my cast and my crew and when we film we are one big happy family. We give love to each other. We're very respectful with each other. And it's just a fun journey.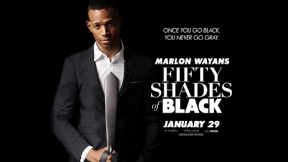 When did you know you had finally made it? I still haven't. Nowhere close. I feel like I have learned a lot in the 20 something years I have been doing this, and now it's about the application of all that I have learned. I have been part of a legacy, which is the Wayans and now I'm trying to build the Legend of Marlon. I'm in the infancy stages. I am humbled and grateful because I get to do what I love every day. There is no other blessing than knowing that I can feed my kids and take care of my family doing what I love. I have not worked a day in my life since I started acting. There is nothing else for me.
What would you like to share with your Latino fans? Latinos and I share a similar sense of humor. A lot of times at my shows I have a lot of Latinos come out to see me. I think it's because I grew up in a Latino community in New York City, and we both have a very biting sense of humor. This movie speaks directly to that audience and they are going to laugh. I'm always very pro-Latino.
"Fifty Shades of Black" will hit theaters on January 29th, 2016.