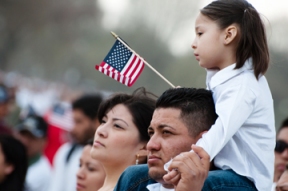 'We must do everything we can to avoid having families pulled apart' –Rep. Hernandez
By: Ashmar Mandou
Immigrant advocates Cook County Commissioner Chuy Garcia, Alderman Carlos-Ramirez Rosa, State Representative Lisa Hernandez and the Illinois Coalition for Immigrant and Refugee Rights (ICIRR) and a plethora of other community organizations held a press conference Tuesday to share City, County, and Statewide resolutions combatting the Immigration and Customs Enforcement (ICE) raids on Central American immigrants.
"I am proud to stand in defense of immigrants who deserve to be treated with dignity and respect," said Commissioner Garcia. "These raids are unacceptable and inhumane tactics that are threating the security of our entire community. These raids create distrust of authority, disrupt clinics, public health, and safety, and terrify vulnerable women and children fleeing life threatening circumstances in Central America."
Community organizations and elected officials have vocalized their disappointment over ICE carrying our raids just after the New Year, targeting Central Americans who are recent arrivals. On Monday, Jan. 4th, 121 Central Americans, specifically from El Salvador, Honduras, and Guatemala, were detained.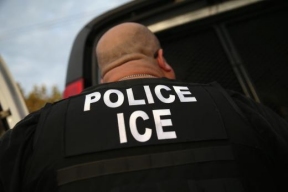 "The city of Chicago for over 30 years has committed itself to being a sanctuary – a place where immigrant families regardless of their documentation status have a safe place to live and raise a family without fear that their city government will collaborate with ICE to deport them," said Alderman Ramirez-Rosa. "That sanctuary status does not stop ICE from coming into our communities and knocking on doors and taking away families at the crack of dawn or the dark of night. We are sending a strong message tomorrow as a Latino Caucus joining with the Cook County government: ICE is not welcome to conduct raids in our community. You will not drive fear into our families."
Elected officials and community organizations are encouraging the Obama administration to expand administrative relief programs including Temporary Protected Status (TPS) and the Central American Minors (CAM) program. TPS provides protection and employment authorization for families fleeing violence, and CAM allows more Central American children fleeing persecution to seek safety in the US.
"We must do everything we can to avoid having these families pulled apart," said Representative Hernandez. "When I hear that a child has died because his father was picked up and detained while buying the child's medicine, I know something has to be done. I will be introducing a joint resolution that will denounce these raids and focus on ICE's ability to operate in our communities."
Last week, ICIRR reminded the immigrant community of their rights. Elected officials are encouraging families and community members to call the Family Support Hotline, 1-855-435-7693 if a raid is occurring in their community.
1. No Warrant, No Access. You do NOT have to answer the door. You have the right to ask the agent (through the closed door) if he has a warrant. If the agent says he has a warrant, ask him to slide it under your door. Check if the warrant is signed by a judge or supervisor, has your name on it, and is recent.
2. Remain Silent. You have the right to remain silent! You do not have to answer any questions.
3. DON'T Sign. Do NOT sign any documents. Tell the agents you won't sign anything until you talk with a lawyer.
4. TAKE DOWN Information. If the agents force their way into your home, take down their names and agent numbers and the license plate numbers of their vehicles.
5. If Detained, don't sign any documents without legal counsel. You have the right to make a call. Call a family member or lawyer to tell them where you are. Memorize important phone numbers–you will not have access to your cellphone while in custody.
6. PREPARE an Emergency Plan. Always carry with you your Know Your Rights Card. Carefully choose a responsible adult that can take care of your children and help you during an emergency. Keep all your important documents in a safe and secure place.
7. REPORT IT! Call the Family Support Hotline 855-435-7693 (855 HELP-MY-FAMILY). In order to organize and take effective action, we need the community to report these incidents. Your information will be kept confidential!