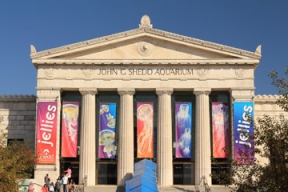 Say goodbye to the winter blues and spring into action with Shedd Aquarium's fin-tastic programming. Don't miss out on the opportunity to play hide-and-seek with all the frogs, salamanders and caecilians in the Amphibians special exhibit, or engage all of your senses with "Coastal Predators," Shedd's new 4-D Experience. And don't forget to dive deeper into the world of fascinating aquatic species with Spring Break Camp and an incredible trip to the San Juan Islands in the Pacific Northwest.
Get free entry to Jazzin' at the Shedd
This spring break, purchase an advance online ticket to Shedd for any future date and receive free admission for you and a guest to come back for Jazzin' at the Shedd this summer ($40 value)! Ticket must be purchased between March 18 and April 10. Free entry is valid for your choice of any Jazzin' dates: Wednesday evenings, June 22 – Sept. 14, 2016.
SPRING BREAK CAMP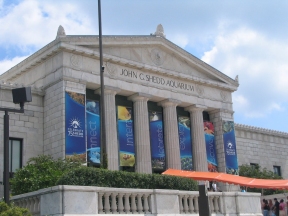 Get up close and personal with Shedd's animals, visit behind-the-scenes work areas and travel to local natural areas to learn more about the amazing animals we care for at Shedd. This year, Spring Break Camp is all about science. Space is limited. Registration for Spring Break Camp is required and available online.
KAYAKING IN THE SAN JUANS
A trip tailored just for those under 35 will have participants embarking on a total outdoors experience with the opportunity to view orca whales, sea lions, otters, bald eagles and more. Guests will spend three days kayaking and camping with Jessica Whiton, Shedd's assistant supervisor of marine mammals, in the breathtaking Pacific Northwest. Here you will learn all about Shedd's role as a nationally-recognized leader in rescue and rehabilitation. Whether it's your first time kayaking or you're a water warrior, this experience is an adventure for everyone. For more information inquire at 312-692-3161 or cmell@sheddaquarium.org. To view the full list of activities, call 312-939-2438 or visit www.sheddaquarium.org.