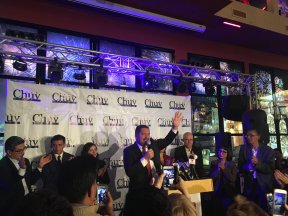 By: Ashmar Mandou
In front of a crowd of supporters, Congressman Luis Gutierrez announced Tuesday he will no longer seek re-election in 2018, instead endorsing Jesus "Chuy" Garcia to take over his seat. At his press conference, Gutierrez spoke about how he and Garcia both got their starts in Mayor Harold Washington's administration in the 1980's. Explaining his choice to leave Congress after 25 years, he referred to advice Washington gave him years ago. "He told me, 'You know who I really respect, I respect people who know when it's time to move on. And move on, on their own terms. In their own time.' This is my time," Gutierrez said. "I would not have made this decision unless there was somebody who could step up and give new life to the agenda in Washington D.C.," Gutierrez said.
By running for Congress, Garcia takes himself out of a potential rematch against Mayor Rahm Emanuel in 2019; Garcia lost a runoff election to Emanuel in 2015. But he said there was no quid pro quo to get him to run for Gutierrez's seat, which makes the path to re-election much simpler for the mayor. "He played no role in my decision to run this race. This race feels right to me, to my wife to many supporters for the reason that there is an urgent need for an immigrant voice from the Midwest in Congress," Garcia said. "My candidacy builds on the legacy of Mayor Harold Washington, the foresight and energy that brought young people together for Sen. Bernie Sanders and the work of Rep. Gutiérrez," Garcia said. "Luis has fought tirelessly in Congress for our undocumented brothers and sisters, and for people everywhere, to keep our hearts and minds open to the free-flowing movement of ideas and democracy. We must never allow fear and oppression to guide our nation."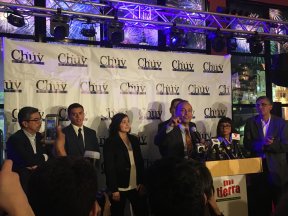 Gutiérrez, who has been a champion throughout his career for immigrant rights, veterans' access to health care, reproductive rights, civil rights of the Puerto Rican people, and workers' rights, made it clear that he believes Garcia will pick up where he left off and be a force for progressive policies and a clear voice in Congress on behalf of immigrants. "It has never been more important for the future of America to have an immigrant voice at the table when national policies are being made," Gutiérrez said. "Chuy is the kind of leader our district needs to carry us into this uncertain future." By electing a Mexican-American immigrant to represent them, Garcia said, 4th District voters will be sending a message to the forces who would divide the nation that they support Gutiérrez's persistent efforts to weave unity and progressive policies inextricably into the American fabric.
"We are grateful for the congressman's bold leadership on immigration reform," Garcia said. "We will build on his dynamic legacy that, with his signature firebrand oratory, has kept the issues front and center – whether it's advocating for undocumented people and other immigrants, or exposing the folly of building a multi-billion dollar boondoggle of a wall." Garcia said he was looking forward to joining the new wave of progressive, national Democratic Party leaders, in the spirit of Bernie Sanders, for whom he worked during the 2016 primary election. "Luis Gutiérrez and I share a common bond, as we carry forward the work of Chicago Mayor Harold Washington," Garcia said. "I believe in opportunity for all, including affordable health care, strong schools, protection for workers and support for our troops and veterans. I will be a relentless advocate in moving Puerto Rico's recovery efforts forward." Gutierrez stated he will focus his efforts on rebuilding Puerto Rico in the wake of Hurricane Maria. "I love Puerto Rico, and she's in a lot of pain. And there's a lot of people that have turned their backs on her. And she needs to be rebuilt, and I cannot be here in the 4th Congressional District and rebuilding the home of my mom, and my dad, where my wife was born, a place that I love so much. And I'm going to work really hard until she's completely rebuilt to 21st-century standards. But I can't do them both."
Mayor Rahm Emanuel released a statement saying, "Luis Gutierrez represented Chicagoans in the Chicago City Council and US Congress for more than three decades, serving his constituents, his city and his country with honor. One thing I know is Luis Gutierrez will not stop fighting for what he believes in until the last vote is cast, and even then will continue working for the causes he has championed throughout his life because he believes in them with his heart. Luis Gutierrez's journey from a taxi driver to a US Congressman is a testament to the power of the American Dream. I have been proud to call him a dear friend and trusted colleague, and stand with Chicagoans and Americans everywhere in expressing my appreciation for his service and wishing him well in his next chapter."
Photo Caption:
Congressman Luis Gutierrez holds a press conference at Mi Tierra restaurant announcing he will no longer seek re-election on Tuesday, Nov. 28, 2017. Gutierrez endorsed Garcia as his successor in Congress. Photo Credit: Nancy Marquez/Lawndale Bilingual News