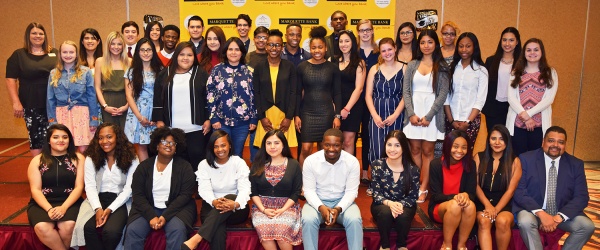 Marquette Bank, a locally-owned neighborhood bank, continued its annual tradition of awarding scholarships to local graduating seniors. The program has been running for over 50 years. This year, the Marquette Bank Education Foundation awarded individual scholarships of $2,500 to 57 graduating seniors from Chicagoland schools, investing over $140,000 in the local community. Students were selected based on their record of volunteer service in their communities, financial need and scholastic achievement. The scholarship can be used for any post-secondary education program, including: four-year universities, community colleges and vocational training schools. The scholarship program is funded by the Marquette Bank Education Foundation (MBEF) and scholarships were awarded to students chosen by their school's guidance counselors and principals. Listed below are just a few of the 2018 Marquette Bank Education Foundation Scholarship recipients.
• Melissa Sanchez of Alsip; Shepard High School; University of Illinois – Chicago
• Samantha Armira of Berwyn; Chicago Hope Academy; Trinity International University
• Patrick Reyes of Chicago (Posen); Cristo Rey Jesuit High School; Loyola University
• Carlos Campa of Chicago (Archer Heights); Curie Metropolitan High School; Northern Illinois University
• Maria Garcia of Chicago (Little Village); Farragut Career Academy; Malcolm X College
For more information on the Marquette Neighborhood Commitment or scholarship program, call 1-888-254-9500.
Photo Caption: The Marquette Bank Education Foundation awarded 57 scholarships of $2,500 to local graduating high school seniors. Since 1968, more than $3.3 million in scholarships has been awarded to nearly 1,700 students from Chicagoland neighborhoods.