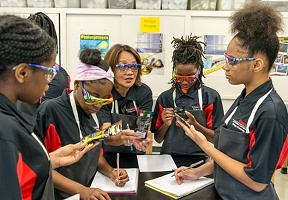 Dunbar Vocational Career Academy High School in Chicago's Bronzeville neighborhood is partnering with ComEd to launch an energy academy that will make the science of energy a key part of the students' four-year learning experience and offer paid apprenticeships to prepare them for job opportunities and further education. School officials, teachers, community leaders and ComEd representatives launched the Dunbar Energy Academy and welcomed the first group of ninth graders – members of the Dunbar Vocational High School class of 2022 – into the program. The "Get into Energy" curriculum created by the Center for Energy Workforce Development provides the foundation for the program. The curriculum includes:
• Introduction to energy for freshmen
• STEM and engineering for sophomores
• Energy industry fundamentals for juniors
• Skilled energy technician fundamentals for seniors.
ComEd will augment in-class learning with guest speakers on renewable energy, energy efficiency and smart city technologies, among other subjects. It will also provide tours of ComEd's training center in Bridgeport and other facilities and offer participation in an annual Youth Energy Conference.
Photo Caption:
Caption 1) Dunbar Energy Academy students
Caption 2) Pictured above is Fidel Marquez, senior vice president at ComEd and Dunbar High School teachers Lashawn Yancey (center) and Myrna Alvarez, who are leading the energy class instruction.