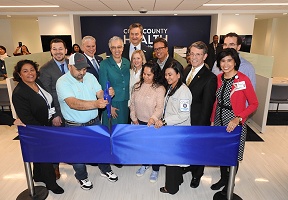 On Friday, April 12, Cook County Health held a ribbon-cutting ceremony and public open house at its new Arlington Heights Health Center as part of its ongoing plans to expand care into suburban Cook County. The Cook County Health Arlington Heights Health Center officially opened on January 14. Located at 3250 N. Arlington Heights Road, the 25,000-square-foot facility includes 25 exam rooms, dental space and an on-site lab. The comprehensive patient care team, who provides a variety of primary and specialty care services, includes bilingual Spanish-speaking staff members. The center expects more than 30,000 visits annually. The services that will be provided in the new center include chronic disease management, dental services, health education classes, immunizations, mammography, obstetrics, pediatrics, prenatal care, primary care for children and adults, and WIC nutrition services.
Photo Caption:
Photo Credit: Cook County Health
Back row: Kevin Morrison, Cook County Board of Commissioners (15th District), Scott Britton, Cook County Board of Commissioners (14th District), Dr. Jay Shannon, CEO, Cook County Health
Middle Row: Toni Preckwinkle, Cook County Board President, Bridget Degnen, Cook County Board of Commissioners (12th District), Peter Silvestri, Cook County Board of Commissioners (9th District), Victor Medina
Front Row: Nancy Rivera, director, regional operations, Cook County Health, Miguel Villagomez, Cook County Health patient, Mrs. Villa Gomez, Dr. Yolanda Escalona, Thomas Hayes, Mayor, Arlington Heights, Iliana Mora, chief operating officer, ambulatory services, Cook County Health.