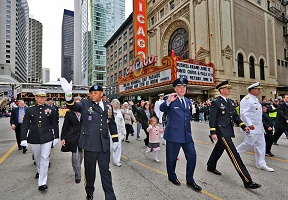 By: Ashmar Mandou
Widely known as the "unofficial kick-off" to the summer, Memorial Day weekend is a time when neighborhoods become more lively, families lay out blankets for a lakefront BBQ, and fireworks light up the Chicago skyline. To help you get started we rounded up a few interesting events happening around the city.
Memorial Day Parade, Ceremony
The City of Chicago and the Department of Cultural Affairs and Special Events are honored to announce the Grand Marshal for Chicago's Memorial Day Parade and Wreath Laying Ceremony on Saturday, May 25th. The Wreath Laying Ceremony will begin at 11 a.m. on Daley Plaza (Dearborn and Washington Streets). The parade will then step off at noon and proceed south on State Street from Lake Street to Van Buren Street. Major General Marion Garcia, Commanding General, 200th Military Police Command, United States Army Reserve, will serve as the parade's Grand Marshal.
Mole de Mayo
Eighteenth Street Development Corporation (ESDC) presents its ninth annual Mole de Mayo Festival, the only outdoor mole cook‐off event celebrating Latino culture and Mexican cuisine. The festival is set to take place on 18th St. and Ashland Ave. from May 24th-26th, 2019 in the rich and diverse neighborhood of Pilsen on the southwest side of Chicago. For more information, visit www.moledemayo.org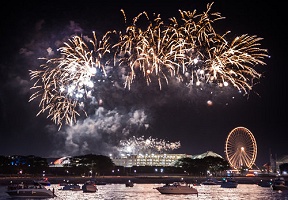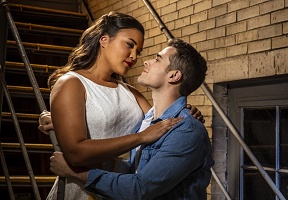 Navy Pier Fireworks
One of the city's top attractions is Navy Pier, a six-block stretch of rides, restaurants and entertainment that attracts more than nine million people each year. Memorial Day weekend kicks off a summer of fun at the pier, and the Miller Lite Beer Garden and Aon Summer Fireworks both start the season this weekend. If you want to scope out the innovative venue called The Yard, the Chicago Shakespeare Theater is producing Waiting for Godot during this weekend.
Chicago House Music Festival
The Chicago House Music Conference and Festival will feature an industry gathering, DJs and live performances showcasing the various sounds and styles of house music, Chicago that has gone on to revolutionize dance music internationally. Chicago House Music Festival will take place on Thursday, May 23rd from 6p.m., to 9p.m., at the Chicago Cultural Center, 78 E. Washington St. Free admission.
West Side Story
Lyric's new grand-scale coproduction of Leonard Bernstein and Stephen Sondheim's masterpiece West Side Story opens next month and features Broadway star Corey Cott as Tony and rising star Mikaela Bennett as Maria. Performances runs through June 2nd. Tickets are on sale now starting at $26 and can be purchased at lyricopera.org or by calling 312-827-5600. Production of West Side Story takes place at the Lyric Opera House at 20 N. Wacker Dr.
"Hamilton: The Exhibition"
Hamilton: The Exhibition takes visitors deeper into the life and times of Alexander Hamilton, while at the same time chronicling the American Revolution and the creation of the United States of America.  Head over to Northerly Island, 1535 S. Linn White Dr., to check out the exhibition. For more information, visit www.HamiltonExhibition.com
Cirque du Soleil: Volta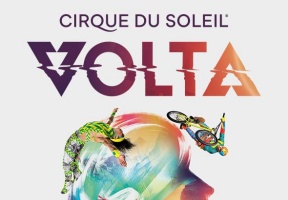 Cirque du Soleil's latest touring showcase of jaw-dropping physical feats draw inspiration from the world of street sports, incorporating acrobatic BMX bike stunts, breakdancing and rope skipping. The narrative of Volta is centered around a gameshow contestant named Waz, who is thrown into a series of challenges (involving people swinging from the rafters, contorting their bodies and pulling off BMX tricks, no doubt) that allow him to discover his individuality. Cirque du Soleil: Volta is currently at the Soldier Field South Parking Lot.