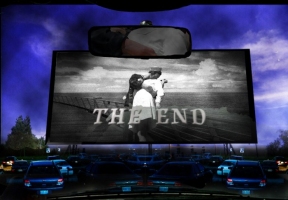 The Chicago Park District, in partnership with the Department of Cultural Affairs and Special Events' (DCASE) Chicago Film Office, is expanding its popular Movies in the Parks series to include drive-in screenings in parks citywide. The free, drive-in movie series is part of the 20th season of Movies in the Parks, which launched on July 27 and features outdoor screenings of current and classic movies every weekday through September 11.  Online pre-registration, available one week prior to each screening, will be required for these free events. The six drive-in screenings will be held in park parking lots, starting this week and continuing every Tuesday and Thursday through August 27. Prior to start of the screenings at 8 p.m., parking lots will close for setup by 4 p.m. and reopen for guest entry at 7 p.m. Capacity for these movie locations, chosen based on parking lot size, accessibility and layout, will vary based on parking lot size between 40 and 60 cars per lot.
Drive-in Movie Schedule:
• August 13 | 60 vehicle capacity
Columbus Park Refectory, Golfers Parking Lot, 5701 W. Jackson Blvd.
"A Wrinkle in Time" at Columbus Park Refectory
• August 18 | 40 vehicle capacity
Tarkington Park, 3344 W. 71st St.|
"Remember the Titans" at Tarkington Park 
• August 20 | 50 vehicle capacity
Riis Park, 6100 W. Fullerton Ave.
"Akeelah and the Bee" at Riis Park 
• August 25 | 50 vehicle capacity
Humboldt Park, 1301 N. Humboldt Blvd.
"The Secret Life of Bees" at Humboldt Park Boathouse 
• August 27 | 60 vehicle capacity
Calumet Park, 9801 S. Ave. G
"The Last Dragon" at Calumet Park
Information is available online at www.chicagoparkdistrict.com/events/movies or on the Chicago Park District: Movies in the Parks Facebook page.