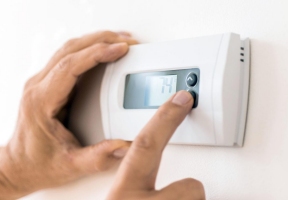 Summer in northern Illinois brings barbeques, outdoor fun and the potential for extreme weather. ComEd's investments to maintain and upgrade the grid are bringing improved reliability and protection against outages caused by extreme weather events that can happen more frequently as a result of climate change. While ComEd provides families and businesses the power to stay cool this summer, the company's energy efficiency programs also give them ways to reduce their energy bills. ComEd's smart grid investments and the hard work of more than 6,200 employees delivered the reliable power that northern Illinois families and businesses expect and prepare the system to withstand major storms and extreme temperatures.
Ways to save money and energy
Clear area around cooling vents.
• Furniture, carpets, and other objects can block vents and prevent air from traveling. This blockage makes the cooling system work harder and prevents rooms from cooling down quickly.
Operate thermostat efficiently.
• Set the thermostat at about 78ºF when home. If the home will be unoccupied for more than eight hours, turn up the thermostat 7-10 degrees.
• Overnight, turn up the thermostat 3-4 degrees while sleeping.
Keep cooling systems running efficiently.
• For maximum energy affordability, schedule regular maintenance for cooling equipment. Take advantage of ComEd's rebates on AC and heat pump tune-ups.
• Vacuum the air intake vents regularly to remove any dust buildup.
• Change the air filter at least once every three months.
For more energy-saving tips, visit ComEd.com/HomeSavings. For more information or to enroll, visit ComEd.com/PaymentAssistance or call 800-EDISON-1 (800-334-7661).